Photo of Mischa Barton in Alice Band Hair Band at Giles London Fashion Week. Beauty Glossary: Alice Bands Autumn Winter Trend
Beauty Glossary: Alice Bands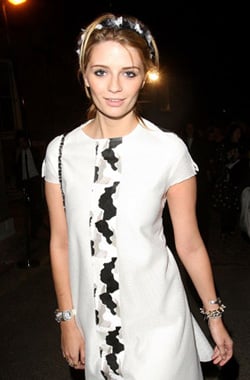 The thick, horseshoe-shaped hair bands that are oh-so-covetable at the moment are often dubbed Alice bands. This is because of the Alice in Lewis Carroll's books Alice in Wonderland and Through the Looking Glass, who is often depicted wearing one.
Alice bands, particularly the velvet or satin kind, have somewhat twee associations with Victorian children, middle-class little girls in starched satin puff-sleeve dresses and pearl-wearing Sloanes. Of course, now that Victoriana, satin puff-sleeve dresses and pearls (not to mention Sloanes) are firmly back on the fashion agenda it's no wonder that Alice bands are back on our radar.
They're ideal for adding a little something extra to an up-do or for disguising a bad hair day. For why the Alice band is cool again and how to wear them, just read more.
Personally, I particularly like the tongue-in-cheek, 80's and early 90's aspect of wearing a dark plum velvet band, sometimes adorned with a bow, to dress up a vintage tee and skinny jeans. The fact that they push your hair off your face is also flattering as pulled-back hair draws attention to the eyes and mouth.
This season and last, the Alice band has really come into it's own with gorgeous offerings from Diane von Furstenberg, Miu Miu, Chanel and Luella. Work that little girl in wonderland style with embellished bands, like Mischa Barton at London Fashion Week, or go luxe with satin, velvet or patent for a head-turning effect.