Photo of Models at Proenza Schouler Runway Catwalk Show New York Fashion Week Spring 2009. Hair and Beauty Latest Trends
Backstage Pass: Proenza Schouler's Wartime Glamour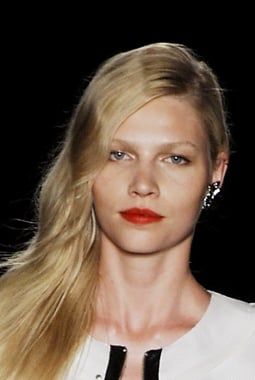 While most of you love the blue eyeshadow trend that was revived by Proenza Schouler this summer, next spring is going to be all about a 40's wartime look with deep red lips and matte skin.
At New York Fashion Week the duo showed rock chick-meets-femme fatale clothes while the beauty look took it's cue from the World War II era with matte red pouts and polished hair. Diane Kendal created the runway look for MAC, and according to WWD she got that vamp lip look by mixing a red pigment with a neon pink sheen. Look-at-me lips combined with strong brows and natural, fresh-faced skin had an air of timeless elegance, whilst just a touch of bronzer was added across the bottom of the cheekbones for a contouring effect.
For my beauty report of the show just read more.
The hair also worked a retro beauty look but this time the reference was the Great Gatsby period with hairstyles concocted by Didier Malige for GHD.
"The look is very 1920s — with longer hair brought to one side," said Omar Lopez, lead stylist for GHD. The hair look was a modern take on the flapper girl finger-wave curl, created by gently rocking the GHD heat styler back and forth down four sections of the hair, for a not-too-perfect effect. In contrast to the matte textures of the clothing, stylists added tons of shine, according to Lopez, to imitate the shiny accessories on the catwalk.
The bright orange-red lips against simple matte skin and wavy hair may be a classic retro look but it feels fresh and modern here. Plus you don't need to be model-perfect to pull it off. Come next spring we may all be looking like wartime pin-ups.
Take a peek at Bella US's great gallery for all the beauty looks from the show.