Photo of New York Fashion Week Runway Diane von Furstenberg Show Veruschka Bohemian Beauty Gucci Westman, Orlando Pita Hair
DVF Channels Veruschka's 60's Boho Beauty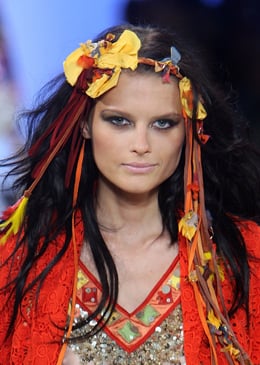 At the Diane von Furstenberg show at New York Fashion Week yesterday, actress and beauty icon Veruschka von Lehndorff served as inspiration for the pretty, yet strong and womanly, take on boho beauty for next spring.
Makeup artist Gucci Westman told WWD "I'm doing a bit of a Veruschka, Diane von Furstenberg woman, that kind of Ursula Andress, Barbarella (woman), but a modern version. Diane, in certain periods of her life — in the Sixties — used to wear white lipstick," she added. "So I was like, 'Cool, let's do it.'"
The pale lips were created by using a pale pink lipstick, with white eyeliner added on top. Gucci Westman then apparently topped off the lips with a cream-coloured eyeshadow, for that powdery, ultra matte effect. Eyes were dark and smoky but with a retro, rather than high-maintenance, vibe that was achieved, in part, thanks to the contrast with natural, fresh-faced skin and effortless hair.
Hairstylist Orlando Pita worked alongside Gucci Westman to ensure that this modern take on retro had just the right amount of glossiness mixed with grunge. He created a very fresh, natural look for the hair that referenced late 60's and early 70's bohemia with low-maintenance, youthful waves. The models then wore leather and floral head pieces to work that flower power style. The hair itself had a slightly fluffy, carefree texture that perfectly offset the ornate detailing of the collection and looked delightfully touchable.
See all the model's looks at Diane von Furstenberg with Bella US's slideshow.