Photo of Paris Hilton at My New BFF Film Movie Screening in Hollywood. Love or Hate Paris' Fringe Hair and Barbie Beauty Look?
Love It or Hate It? Paris Hilton's Fringed Look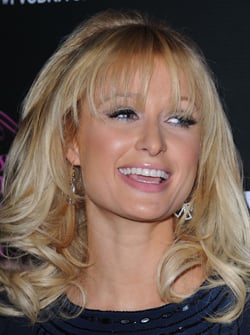 Never one to shy away from the limelight, Paris Hilton was basking in the attention at the Hollywood screening of her new show, My New BFF last night. Her skin looked typically glowing and I've grown to like the baby-pink lip colour she wears, it does seem to suit her complexion and youthful personality. I'm not a fan of her pale eyeshadow colours though. For me, that's one step too far into Barbie girl territory.
Paris wore her hair in a wispy feathered fringe which had a definite romantic air. It looked softer than some of her recent coiffered dos, while a slight backcomb on the crown and feminine waves made for a wearable, yet stylish look.
How about you, what do you think of her look?