Photo and Review Bobbi Brown Shimmering Nude Collection Makeup Beauty Autumn Fall Winter Catwalk Trends
Bobbi Brown Shimmering Nude Collection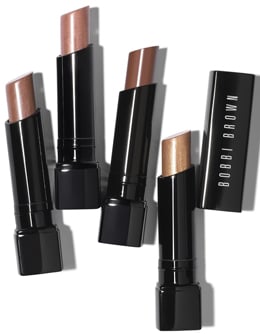 Bobbi Brown's latest makeup collection for autumn hits counters this week and we're all in for a treat. The Shimmering Nude line has been created for a subtle, yet seductive, effect. Think the nude metallic makeup looks that were all over the catwalk at Burberry and Marc Jacobs this season.
The limited edition collection combines the Shimmering Nude palette, (£40) and selection of creamy lip colours, (£14), which are infused with hints of pink and gold. The palette includes seven cool and warm nude shades that are designed to flatter all skin tones and if there's one thing Bobbi is famed for, it's her super-flattering and wearable colours. The combination of flat, sheer and strong shimmering tones illuminates the eye, whilst a dark matte shade works as a liner for extra drama.
Bobbi says "I love nude makeup – it's especially sexy when it's saturated with glimmering light-reflective flecks."
The Pink Sequin lip colour is my personal favourite for innocent ingenue appeal, whilst the darker Pink Buff shade looks beautiful on olive or dark skin tones.