Photo of Sarah Harding with Bright Red Lipstick Shiny Pout Lips. Pick of the Best Vamp Red Lipsticks
Sarah Harding is a Lady in Red Lipstick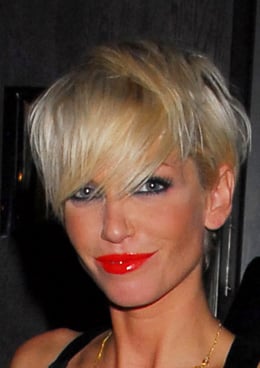 Girls Aloud singer Sarah Harding is never one to shy away from extreme beauty looks. As if her newly cropped, peroxide hair wasn't show-stopping enough, she has been teaming it with a wet-look, glossy red lipstick that screams look-at-me. It's the perfect combo for hitting the clubs of London this weekend.
Whilst there is something about Sarah's lip colour that brings to mind red PVC car seats and I'm sincerely hoping we're not witnessing a trout pout, I have to admit that I applaud her efforts at standing out. She could be one of the girls from the 1986 Robert Palmer Addicted to Love video, and va va vamp lips are certainly a big trend for autumn/winter.
To read about my favourite glossy red lip colours, read more.
Maybelline Moisture Extreme Lipstick, (£4.99), in 630 Precious Red, has an ultra shiny, vinyl-esque finish that is sure to turns heads. Ideal for copying Sarah's look on the cheap.
Clarins Jolie Rouge, in Cupid Red, (£14.50), is my current favourite red. It's a vampy shade that's easy to apply and lasts for ages. The texture is great too and while it's not super-glossy, it does have a sheeny finish.
Playboy Stiletto Lip Shine in temptress, (£6.95). I have to admit I have a bit of a problem with the Playboy branding. Why they think women would want to emulate strippers in their makeup look, I don't know. However, this lipstick is a fantastic dark red colour and it goes on ultra glossy too. I'm also impressed that it offers an SPF15.