Photo of Sarah Harding Hairstyle at Girls Aloud X Factor Show Party. Love or Hate Her Big, Backcombed, Matte Messy Hair Look?
Love It or Hate It? Sarah Harding's Big Hair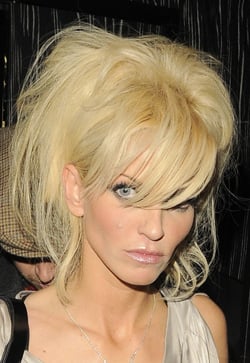 Sarah Harding partied with the rest of Girls Aloud (minus Cheryl) at Whisky Mist in London this weekend. Never one who's afraid to steal the limelight, Sarah went for big, back-combed hair in a bright vanilla ice cream shade of blonde. The matte texture and voluminous style looked straight off the catwalk, where candyfloss hair has been a backstage staple for a while now.
The long fringe, which Sarah wore over her eyes, gave the look a Debbie Harry vibe. A mixture of grungy punk and disheveled prom princess, the do certainly added some edginess to her pale pink lip gloss and girlie makeup. I'm torn between loving this style and thinking she looks slightly tough in an unappealing way.
How about you, what do you think of this look for Sarah?