Photo of Sophie Ellis Bextor at GAY Club Night How To Get Her Bold Make-up Look
Sophie Ellis Bextor is Over The Rainbow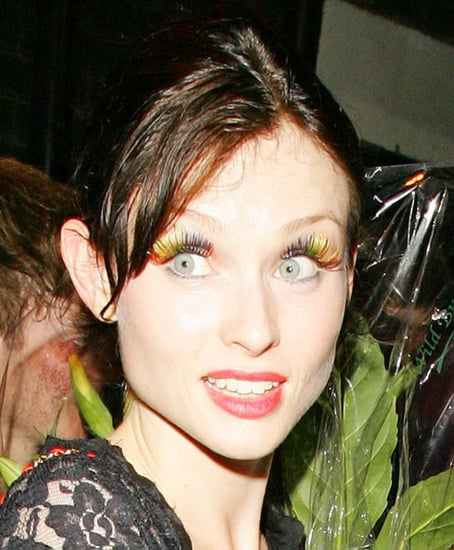 OK, so I'll admit she looks a little scary in this picture, but Sophie Ellis Bextor was working the bright lights, bold colour trend to the max, as she partied at G-A-Y, this weekend.
I'm definitely not suggesting you go all-out, like Sophie, and copy her drag queen-esque false eyelashes, or rather scary wide-eyed look – but it's great to see a normally fresh-faced, girl-next-door type, working a more on trend, makeup look.
As the new face of Rimmel, you'd expect that Sophie may have been learning some makeup artist tips, as well as how to take her makeup up a notch, for a big party night.
To get her rainbow bright look, just read more
Although Sophie has used a lot of colour on her eyes, she stuck with classic beauty rules, and used a neutral, white shadow, just below her brows. This makes eyes look bigger, and emphasises your bone structure. Try Rimmel mono eyeshadow, in moonstone, (£3.49).
When applying stripes of colour, start from the inner corner of the eye. Use the palest colour first, and apply over the entire lid.
Then start, about two thirds in, and use the next colour, blending into the lightest shade, and then taking that colour out to the very outer corner of the eye.
Next, use the darkest colour, and blend into the outer corners of the eyes. Don't be afraid of taking the colour quite wide – this will look extra dramatic.
For a simpler way to add colour, copy Sophie and use a bright yellow eyeshadow on the lid. I like MAC chrome yellow shadow, (£10).
Then, add oversize, coloured eyelashes, such as Classy Lashes, (£3.50).