Photo of Supermodel Elle Macpherson at London Fashion Week Spring 2009 30 Days of Fashion and Beauty Gala Party: Love or Hate?
Love It or Hate It? Elle Macpherson's Gala Beauty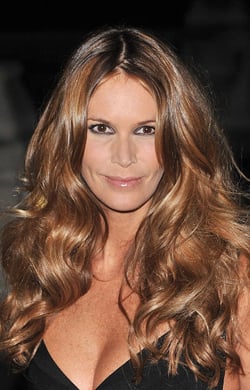 Supermodel Elle Macpherson mingled with Stella McCartney and a very blonde Kate Hudson at the 30 Days of Fashion & Beauty gala party last night, as part of London Fashion Week.
Elle's hair looked extra-long and luscious in a darker, more caramel shade of blonde than she usually wears. A middle parting that showed her dark roots gave the look a rock and roll edge.
She kept her makeup tonal with shades of peach and pinky-beige blush and lipstick, while lining her eyes in charcoal grey kohl for extra definition.
What do you think of her beauty look?