Photo of Supermodel Gisele Bundchen Officially Face of Max Factor Makeup Brand 100 Year Anniversary 2009 Deal
It's Official: Max Factor Hearts Gisele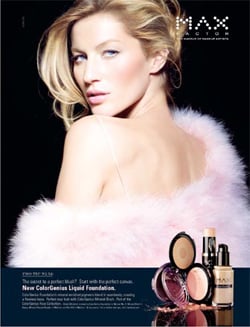 So it appears that the rumours have turned out to be true. Whether you love or hate her ad – it's official; Giselle is the new face of Max Factor.
The iconic makeup brand will be 100 next year, and to mark their anniversary the famous Brazilian super will be pouting and preening in their ads. In addition, Max Factor have got legendary make-up artist and catwalk guru Pat McGrath on board to create the looks for the Gisele campaign.
Pat is famed for going all-out to create extra-spectacular catwalk-esque looks and has worked at the Stella McCartney and Christian Dior shows, to name just two. To work alongside Gisele and Pat McGrath, Max Factor have also signed up famous fashion photographer, Nick Knight, to capture the magic of this centenary collaboration.
According to E! Online reports a while back, it's rumoured that Gisele has signed a two-year, $2.5 million deal to endorse Max Factor's products. So she's rich and beautiful? No, of course we're not jealous.