Photo of Victoria Beckham with Audrey Hepburn Inspired Up Do Hair. Celebrity Hair How To From BellaSugar UK
Hair How To: Victoria Beckham Channels Audrey Hepburn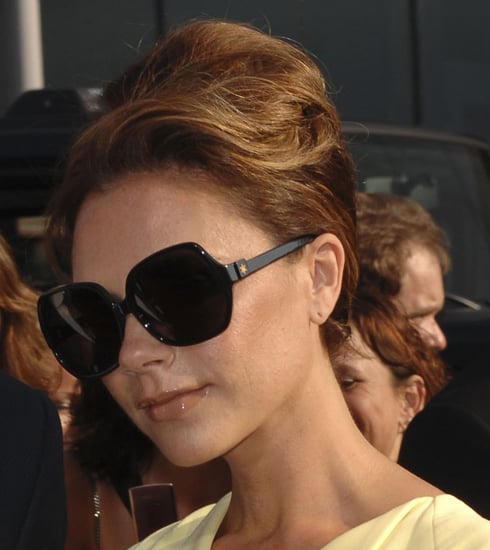 Victoria Beckham looked like she was taking inspiration from Audrey Hepburn, at the ESPY awards in LA, last night. Her oversize sunglasses, sleek Roland Mouret dress and bouffant up do, were clearly channeling Audrey in Breakfast at Tiffany's.
It's a classically show-stopping hair look, that is sophisticated and playful in equal measures. Don't ask me why, as Miss Golightly proclaimed, in the film, parce que je ne sais pas mon cher.
Here's how to: Just read more then cross your heart and kiss your elbow!
Apply a texturising spray to wet hair before you blow dry, to add grip and texture. Try Sebastian Texturiser, (£19.85).
When your hair is dry, gently backcomb your roots, to add volume.
If you have a fringe, or shorter layers at the front like Victoria, then separate these and hold with a clip for now.
Now pull the right side of your hair (from your crown to the nape of your neck) back. Pin it back along the middle of your head. The length of your hair should be hanging down.
Next, pull the left side of your hair back to meet the right side in the middle. Twist the two sections of hanging hair, together and up toward the crown of your head, to cover the line of pins.
Secure the twist to the back of your head with bobby pins. Then swirl the ends of the twist together, into a loose messy bun, and secure with more pins.
For a quick alternative, simply smooth hair high on the head into a full, plump ponytail. Fan out the hair to add volume, and clip the ends under, and secure with pins.
Unpin the shorter layers or fringe at the front, and smooth to one side. Keep the volume, like Victoria, by not pulling flat. Then secure them to the bun with pins.
Spritz your do with hairspray, such as Andrew Collinge Weightless Volume Hairspray, (£3.99).
Now buy some furniture and give the cat a name.