Photos of Catwalk Runway Models John Rocha Show London Fashion Week Spring 2009 Backstage Beauty: Matte Lips, Pale Skin and Buns
Backstage Pass: Ballerina Beauty at John Rocha
Lace-inspired knits, barely-there chiffon and light-as-air folds, ruffles and pleats gave the John Rocha show an unassuming air of femininity, contrasted with strong shapes and a palette that was anchored in black. The models looked like other-worldly ballerinas with uniform top knots and buns secured with multiple, visible kirby grips.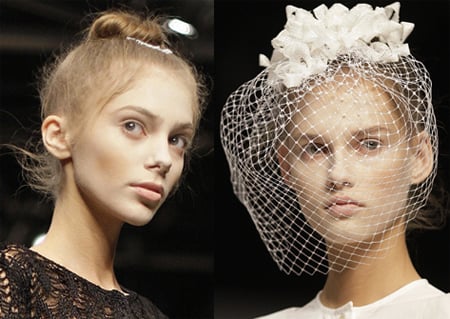 Samantha Hillerby created a hair look that appeared slightly unfinished, as though the girls were still backstage. An undone feel, combined with a youthful style added to the ethereal mood.
Makeup-wise the nostalgia of the ballerina prevailed but with a surprisingly modern edge. Faces were powdery white and looked almost dusty while makeup artist Sam Bryant kept the brows strong as the focus of the face. Sam used Bobbi Brown products for a beautifully feminine and whimsical effect. Lips were kept neutral, either in the palest baby pink or with a touch of beige colour, and the texture was overwhelmingly matte. Meanwhile, circles of carefully blended peach blush added luminosity and stopped the white-base looking overly theatrical.
Towards the end of the show the milky neutral palette turned colourful, as dresses in bright bolts of yellow, turquoise and electric blue stormed the runway. Vintage-style hats and fascinators with net veils in cream added a more demure edge, whilst canary yellow flowers worn in the hair, complete with netting, gave the girls a birds of paradise feel.