Photos of Victoria Beckham, Lily Allen, Alexa Chung, Daisy Lowe. New Hair Cut Style. Do You Copy Celebrity Hair Trends?
Do You Ever Copy Celebrity Hair Trends?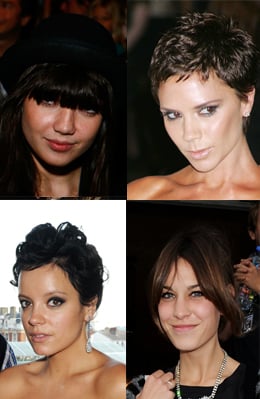 I have to admit that when Victoria Beckham went for the chop this week, I was a tiny bit tempted to follow suit. Her pixie cut looks so fun and flattering. Friends told me that when Lily Allen dyed her hair pink it suddenly made the colour look oh-so-desirable, whilst Daisy Lowe's fringe and hat accessorising has been widely copied on the streets of Shoreditch this summer. It's important to make sure a hair cut and colour suits your face shape though, as what looks cool on a celebrity may not work on everyone.
Meanwhile Alexa Chung's messy and simple long bob always looks cute and if I weren't so obsessive about growing my hair I might even ask 'for an Alexa' at my local hairdressers.
How about you, are you ever tempted to copy celebrity hair trends?
Source, Source, BigPicturesPhoto.com and Michael Jaworski/BigPicturesPhoto.com