Pink Friday Lipstick
MAC and Nicki Minaj Pair Up to Launch Pink Friday Lipstick
In America, the day after Thanksgiving (which is incidentally this coming Friday) is called Black Friday and is marks the beginning of Christmastime shopping. So when I heard that there was a brand new bright pink lipstick launching from MAC called Pink Friday, I smiled to myself and knew it was going to be something good.
The limited-edition lipstick was co-created with singer/rapper Nicki Minaj to help celebrate the release of her new album (which also has the same name)! The catchy gimmick that's going along with the creamy satin shade is that it's only available for four Fridays beginning on 26th November, (3rd December, 10th December and 17th December) online exclusively at Sefridges and MAC for £12.50.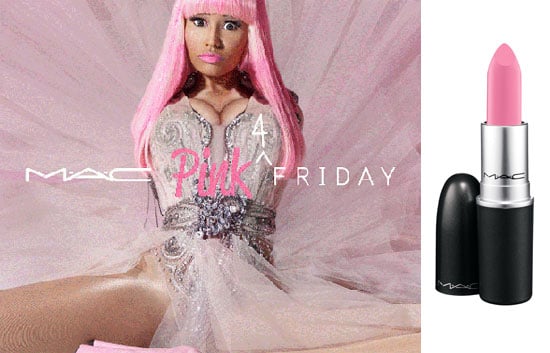 Lucky me has gotten the chance to try it on and really like it. Well, let me rephrase that. I like it for a nighttime, mod makeup style with lots of black eyeliner, teased hair and false lashes, but it's a tad bold for everyday. However, apparently Nicki has been a bright pink lip fan for years, so this colour suits her to a tee. Check out pics of Nicki yesterday in New York City.
And to read the highlights from the interview that MAC held with her, just read more.
Tell us about the inspiration for your new M·A·C Lipstick shade, Pink Friday? This shade is similar to the one I've worn for years by M·A·C but with a little extra ZING! I wanted a color that represented female empowerment as well as euphoria! The color makes u feel free to rule the world. Its sexy, yet fun! It pops! Its theatrical! It turns heads! No matter your age, Pink Friday makes u feel like you're the life of the party!
How did you end up collaborating with M·A·C? What about the brand appeals to you? I've been wearing M·A·C products since my High School prom. I actually got it done at a M·A·C counter. From that day on, I've been hooked! I've always felt like M·A·C represents women of all colors and shades. The make- up always feels like it was custom made for your skin, your shade, your beauty regimen. The day I sat down with them I was very nervous. This had been my dream for a very long time. Surprisingly, they made me feel right at home. They had researched my pictures, my music, my fans! The staff seemed more like family than co-workers. It was a great experience.
How would you describe your style? My style is ever changing. Its free, fun, moody, militant at times, girly girl, flamboyant, girl next door meets runway!
Who are some of your style icons? Iman, Naomi Campbell, Donatella Versace, Cyndi Lauper, Janet Jackson, Michael Jackson.
Any beauty or style advice for your fans? Never fall asleep with your make-up on! Always wash your face before you go to bed, keep your face moisturized and drink lots of water!