Pomegranate For Younger Skin and Help Cure Sun Damage, Skin Discolouration or Hyperpigmentation
Beauty Glossary: Pomegranate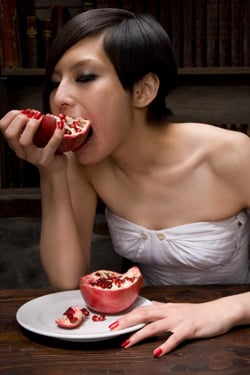 I'm a big fan of pomegranate juice. Ever since scientists told us that this red fruit has amazing antioxidant powers, I've been trying to have at least a few glasses a week. Pomegranate is also fantastic at fighting free radicals, which can accelerate the signs of ageing on the skin.
Recently, it was revealed that this wonder ingredient also works it's magic on reducing dark spots on the skin. According to Glamour magazine there is new research which shows that extracts of pomgranate can help repair sun-scorched skin; soothing the complexion and reducing damage. Patricia Farris, a clinical assistant professor of dermatology, told the magazine,


"The gold standard for lightening significant pigmentation is prescription-strength hydroquinone, but for lighter marks, this ingredient (pomegranate) provides moderate improvement."
Along with other anti-oxidants, such as green tea, it is believed that pomegranate may help to diminish hyperpigmentation. It works by reducing inflammation and slowing the production of melanin in the body. For best results, try using a product that contains this ingredient, such as Estee Lauder Nutritious Vita-Mineral Moisture Lotion (£44) and keep guzzling the fruit itself too!