Poppy Lipstick
Trend Alert: Poppy Lipstick
For those of you who like to match your lips and your nails, poppy lipstick is making a strong statement this Spring. In the past week alone we've seen Jodie Kidd model new St. Tropez tanning products, Chloë Sevigny attended the Chloe Los Angeles Boutique opening and Alexis Bledel went to a Tribeca Film Festival premiere, all with a bright and flirty poppy pout.
The colour poppy can best be described as an electric or neon red. It contains hints of orange, coral and pink, and always catches your eye because of it's vibrant and cheerful tone. Tip: Poppy lipstick is best worn with a little bronzer, black liner and mascara. Don't overdo it by adding too much colour to your eyes or cheeks, as poppy lipstick speak volumes on it's own.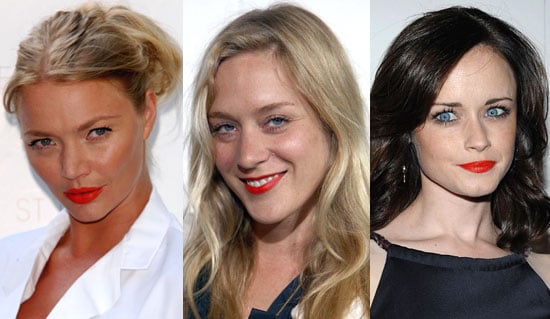 A few of my favourite shades of poppy lip products are Nars Lipstick in Manhunt (£17). This red is quite sheer, however it delivers a substantial punch of colour. Chantecaille Lipstick in Poppy (£22.51) is a bright, creamy and long-lasting shade free of talc, oil and lanolin. To make it matte, dust a setting powder over the lipstick and blot with a tissue. Lastly, I love Elizabeth Arden 3.5g Colour Intrigue Effects Lipstick in Poppy Cream (£16). This flirty shade hydrates and softens the lips whilst adding intense shine.
Be sure and check out all of the stars I've spotted in poppy toenail polish here and for images of the Nars, Chantecaille and Elizabeth Arden and shades, read more.