Prescriptives Well Suited Collection, Prescriptives 2009 Autumn
Prescriptives Autumn Collection Suits Me Just Fine
The new Well Suited Autumn 2009 Collection from Prescriptives has launched as of 15th August. Full of plums and rich browns, the inspiration for the range came from a feminine, modern take on men's tailoring. Think textures like brocades and tweeds, and combine that with earthy colours. The focus of the look are the eye palettes as they include five powder shadows and are available in warm, neutral and cool tones to best suit your complexion. To complement the eyes, cheeks are mauve and lips are a pinky, purple or honey-hued.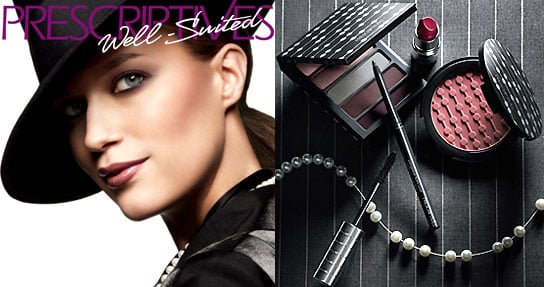 My favourite eye palette is the cool tone compact as it mixes pinks, purples and greys that can be used to contour and line your eyes. For pricing, descriptions of each of the products and beautiful close-up photos, read more.
Limited Editon Well-Suited Eye Color Compact (£30) comes with five eye shadow in three different colour palettes; warm (browns and greens), neutral (creams and browns) and cool (purples and pinks).
Limited Edition Well-Suited Finishing Powder (£23) is a translucent, lightweight pressed powder that helps set makeup whilst also giving skin a touch of sheen.
Longwear Kohl Liner (£14) is a waterproof, non-flaking, smudge-resistant eyeliner that goes on smooth and lasts all day. It's available in four shades: black kohl, slate kohl, brown kohl and blue kohl.
Limited Edition Colorscope Lipcolor (in three new shades) (£15 each) is a shiny and moist lipstick that is now available in three additional shades: mocha, bronze and plum. It has a lightweight, wonderfully smooth texture with extraordinary shine.