Product Review of Clarins, Radiance-Plus Self Tanning Cream-Gel
Product Review: Clarins Radiance-Plus Self Tanning Cream-Gel
At last! Finally, I've found a self-tanning product that smells great, doesn't turn my face or hands orange and it never streaks. Plus, it also moisturises (I just love two-in-one products) so my skin is left feeling smooth, soft and ever-so-slightly sun-kissed.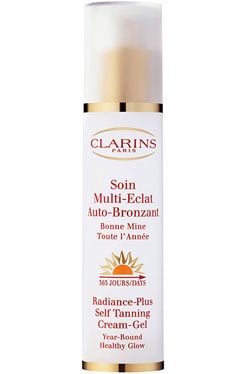 While I do feel that Clarins Radiance-Plus Self Tanning Cream-Gel (£23.50) is quite expensive for a face-only sunless tanner, sometimes it's worth it to pay up for quality.
I first discovered the product when I got it as a sample in a magazine. I quickly used up the 12ml travel-size tube and bought another one. I use it on my face, neck and décolletage for a more natural look and I apply just a dab extra on the areas of my face worth contouring (sides of the nose, temples and under the cheekbones).
All you need is a penny-sized amount and apply evenly staying away from your brows and hairline. It has a gradual tanning effect, so I recommend applying it every other to every third day for best results.
Do you have a favourite self-tanning product?