Product Review: Philosophy Microdelivery Peel Kit
I was introduced to Philosophy Microdelivery Peel Kit (£56) a few of months ago, and ever since it's become a bi-monthly ritual that I can't live without. It's slightly more potent than manual exfoliation, and I love that I can see some pretty amazing results so quickly for an over the counter product. The kit includes two items: a jar of yellow bicarbonate Vitamin C/peptide resurfacing crystal cream, and a bottle of lactic and salicylic acid activating gel. The secret ingredient is apparently the peptide complex found in the crystals which works to revive and resurface the skin whilst delivering Vitamin C that helps brighten it up. Additionally, the lactic acid dissolves dead and damaged skin cells.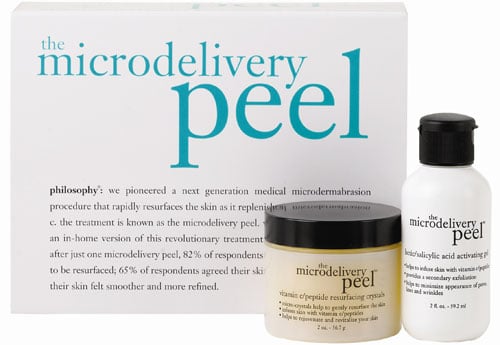 The process is super easy. All you do is pull your hair back, wash your face and then gently massage a generous dollop of the thick and grainy crystals to your skin. After two minutes, pour a teaspoon of the activating gel into your hands and rub it over the crystals. Two things will happen. The first is that it begins to turn into a whitish foam, and the second is that it also feels quite warming and tingly on your skin. Let it sit anywhere from one to two minutes, wash it off and then pat your face dry.
After I've finished the treatment, instead of my face looking red, splotchy and embarrassingly uneven, it has the opposite effect. I immediately look more refreshed, my face is noticeably brighter, and best of all, it feels smoother. I definitely recommend this to anyone (even if you have sensitive skin) who's looking for an easy DIY (albeit slightly messy) way to rejuvenate their skin.