Products For Thinning Hair
Product Review: Nioxin Shampoo and Conditioner
For the last six months or so I've been in denial about my limp, lackluster and worst of all thinning hair. I'm not sure why I feels so taboo to discuss, (I'm guessing it's because we always think of men losing their hair and not women) but lately, more than I care to admit, my hair has been falling out in the shower and whenever I brush it which has me feeling both embarrassed and worried.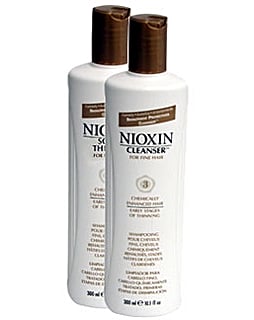 So when I went in for a cut and colour a few weeks ago, I was ecstatic to learn about Nioxin System Three Cleanser and Scalp Therapy (on sale for £25). This duo is designed to exfoliate the scalp and clean away dead skin and clogged hair follicles to make room for healthy hair to grow freely.
A walnut-sized amount of shampoo is enough to create a rich, foamy lather. It tingles upon contact and leaves your head feeling minty, cool and clean. The scalp treatment is creamy and intense and should be applied from roots to ends. It helps add body to the hair and keep the scalp moisturized and soothed. I have medium length hair and a pence-sized amount was enough to create a silky result.
To find out if it really works and to see close-ups of the products, read more.
I've been using it for two weeks and I can already feel a difference. My hair isn't of course instantly thicker, but if feels smoother, lighter (I think because all of the trapped sebum and dead skin have been removed) and shinier. Also, it's helped to safeguard my newly-enhanced colour from the damaging scale in our water. I only hope that in the coming weeks that my hair will regain some more of it's old volume.
The only drawback is the scent. I'm used to shower products being aromatic, flowery or sugary, certainly not medicinal. The good news is that you don't have to use it everytime you shower. Just two to three washings a week should suffice and in between you can use whatever you fancy.
Nioxin has an extensive product list for all kinds of hair types. I like that it's not outrageously expensive, yet it produces a salon quality result. What's your biggest hair care concern?