Purifying Facial Spa Review Gran Hotel La Florida Barcelona. Ole Henriksen, skincare, Madonna, Renee Zellweger, Charlize Theron
Little Black Book: ZenZone at Hotel La Florida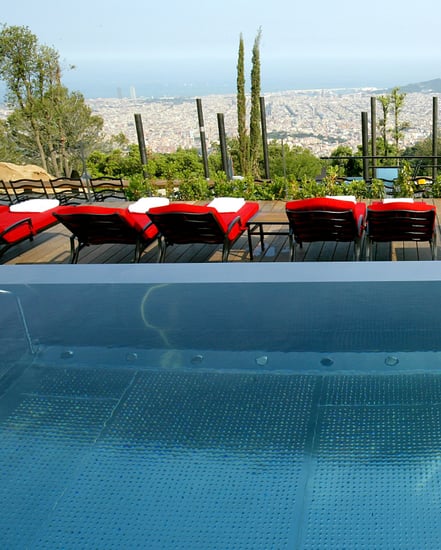 I'm a bit of a spoiled kitten when it comes to facials, I have to admit. Years of working in the beauty and fashion industry means I've had my fair share of the good, the bad, and the downright ugly.
The worst, was a 'couple facial' in which my skincare expert actually flicked the sides of my cheek with her artificial nails, while at the same time Mr Bella kept trying to grab my hand, shouting "don't let her touch my face, I don't like having my face touched" as his masochistic therapist tutted at the state of his stubble.
So instead of lying back and thinking of beauty, I've come to approach facials with more than a little trepidation. Hotel facials, I'd always assumed, were pretty much bog standard – fluffy white towels aplenty and the requisite, five minute shoulder massage at the end.
But I take it all back. After succumbing to the charms of the earnestly named Zen Zone spa at the Gran Hotel La Florida in Barcelona, I am feeling like the cat who got the canary. For why, just read more
The sleek spa is really more of a succession of beauty treatment rooms, below the gorgeous L-shaped, outdoor-to-indoor swimming pool and decking. This is where Ernest Hemingway used to enjoy a cocktail or two, while taking in the spectacular views of the city.
Treatments such as hot stone therapy, a wrinkle busting facial and a specialised oxygen facial (for smokers or to combat jet lag) make the hotel worth a visit. I had a simple Purifying Facial, (90 euros for an hour), using the gorgeous Ole Henriksen products, beloved of celebrities like Madonna, Renée Zellweger, Jessica Alba and Charlize Theron.
The three step treatment was superbly professional and extremely relaxing, whilst my facialist was thorough, yet still discreet and charming (sometimes these things feel a bit like having a chat with your mother about your lifestyle choices, but there was none of that, thank goodness).
The facial itself includes cleansing, exfoliation, a creamy soothing mask and an expert massage to hydrate, relax and revitalise the skin. It was pretty much blissful, and expecting my skin to look somewhat blemished and red after the treatment (as it does after most facials, for the first few hours) I was pleasantly surprised to find my face looked plumped up, smoother and with that radiant freshness we all crave.
The next day, even after a long and delayed flight, lack of sleep and a nasty sugar and caffeine-fulled diet, I still looked blissed out and glowing. Definitely purr-inducing.