Rachel Stevens Launches World Cup Fragrance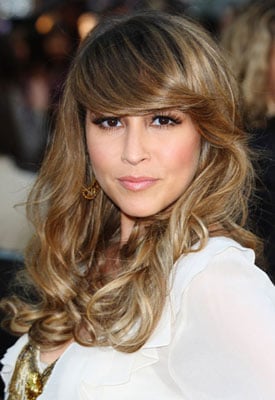 The 2010 World Cup is about to start and already I'm getting patriotic. It looks like Rachel Stevens feels the same way. The singer unveiled a new World Cup Unisex fragrance today called Eau De Stade, as a tribute to the tournament.
The limited-edition scent is set to go on sale at Soccer Scene's World Cup Pop Up Store in London from June 11th and was commissioned by the Sky+ HD company. It's said to evoke the smell of the football pitch, sweat and South Africa, the host nation. (This will be interesting!)
Rachel fronts the campaign wearing a strategically placed England flag and a bowler hat in one shot, and a cream Marilyn Monroe style halterneck dress in another.
Eau de Stade isn't Rachel's only project. The 32 year old singer also just announced she is three months pregnant which her husband Alex Bourne's baby. She's due to give birth in November. How exciting!
I must say, I'm slightly dubious about the scent. I'm not sure how notes of sweat can be translated in to something appealing, but I will reserve judgement until I've had a sniff.
Are you excited for the World Cup?