Rag & Bone Spring 2013 Revlon Makeup at London Fashion Week
'90s Supermodels Inspire Bold Brows and White Nails at Rag & Bone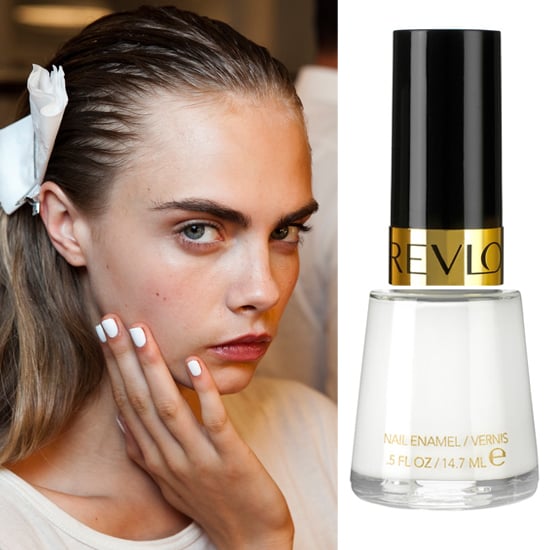 Rag & Bone returned to London Fashion Week on Saturday after presenting their Spring 2013 collection at NYFW. The chic sportswear line, as modelled by Brits of the moment Cara Delevingne and Jourdan Dunn, was matched by Revlon makeup artists' modern take on the '90s. Revlon Global Artistic Director, Gucci Westman explained:
"I wanted to create a look that was bold, but still looked soft and natural. I was inspired by the iconic supermodels of the 90's and the great structure of their brows. I kept the makeup very pure, adding just a touch of natural flush to the lips by mixing two lip products together, and I used a brow pencil to create subtle freckles and a dramatic brow to top the whole look off."
Revlon UK Nail Ambassador, Jenny Longworth added:
"The rag and bone girls where given a modern day manicure using block colour on the nails in Revlon Nail Enamel in White on White for half the girls, and Revlon Nail Enamel in Elegant on the other half. The white nails really reminded me of a 90's Christy Turlington with a boyish, androgynous edge. Nails where kept short and were shaped to the natural curve of the fingertip. This gave a really clean and chic finish with the white adding a 90's feel which looked beautiful, sporty and futuristic. A modern day take on a 90's nail!"
To find out which products you need to replicate the look for yourself, read more.
Face:
Revlon PhotoReady BB Cream in Light and Medium, £9.99 (available March 2013)
Revlon Baby Stick in Pink Passion from The Spring/Summer '13 Collection by Gucci Westman, £6.99 (available April 2013)
Eyes:
Revlon ColorStay 16 Hour Eye Shadow Quad in Addictive, £7.99
Revlon ColorStay Eyeliner in Brown, £6.29
Revlon Grow Luscious Mascara, £9.99
Brows:
Revlon ColorStay 16 Hour Eye Shadow Quad in Addictive, £7.99
Lips:
Revlon ColorStay Ultimate Suede Lipstick in Supermodel, £8.00 (available February 2013)
mixed with Revlon Colorburst Lip Butter in Sugar Plum, £7.99 (available April 2013)
Revlon ColorStay Lip Liner in Nude, £6.29
Nails:
Revlon Nail Enamel in Elegant, worn on half of the models, £6.49
Revlon Nail Enamel in White on White, worn on half of the models, £6.49