Rebecca Morrice Williams Talks Nails, Photography and 10 Years of Becca
Rebecca Morrice Williams Talks Nails, Photography, and 10 Years of Becca
I have some exciting news to share with Becca fans! Even if you haven't yet tried the brand, I think the new nail varnishes set to launch next week will suck you in with their allure. I have been a fan of this brand ever since I discovered its amazing double-sided concealer, so it was a real honour for me to sit down with Rebecca Morrice Williams, founder of Becca Cosmetics, as she talked me through her latest collection and the polish range over coffees and manicures!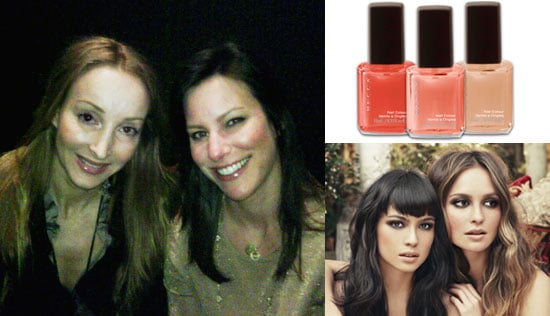 Firstly, let me just gush about the new nail shades inspired by things Rebecca likes and wants. The first batch, which is part of the Halcyon Days Collection (due out in May), includes three retro pinks perfect for Summer and three deeper tones for Autumn. My pick of the bunch is toasted marshmallow, a mauvey-brown tone that I wore for eight whole days without any chips. The polishes are 4-free, meaning they don't contain any toluene, camphor, formaldehyde, or dibutyl phthalate. For all the dirt about Rebecca's favourite part of her job, her must-have products, and what's next for the brand, just read more.
What are your favourite Becca products? I really love the new lip balm with SPF 20. It's made with natural Tahitian vanilla and smells wonderful. Also, my Desert Island Product that I couldn't live without is concealer.
What is your favourite part about your job? I love photography, so it's amazing for me to be able to shoot and produce the images for the ads for my collections. I also love product creation. I started with the concealer. I sort of went through an obsessive skin stage and wanted to really get it right. The concealer was my inspiration for the rest of the collection really. I love makeup so much and especially love that makeup can make you look healthy. I never leave the house, ever, without makeup. In fact, I love wearing it home alone because it makes me feel good.
What's next for you and for Becca? Our 10-year anniversary is coming up in October, which I'm really excited about. There will be some limited-edition products coming out, and the London store is getting a whole new makeover. There's also a new diffusion line coming early next year, which I'm very excited about.
Any plans to grow your presence abroad? Definitely. I've just entered into a New York boutique along with having space in Henri Bendel.