Red Carpet Hair Tricks and Tips
Hot Hair Tips for the Red Carpet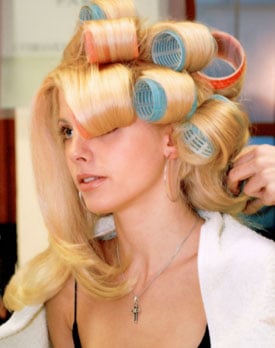 Whilst spending time with famed hairdresser Charles Worthington, we not only talked about his background, my hair and the 2010 BAFTA Awards, but we also talked about how to keep hair looking its best for a big night out.
Oftentimes, hair is done hours before an event, making it challenging to keep it full and fresh looking. Charles has created amazing red carpet looks for celebrities attending the Oscars, BAFTA's, Brit Awards and many, many other celebrations. To find out some of his best kept secrets for keeping fine and thick hair looking its best for a long stretch of time, just read more.




For Fine Hair: Begin with a volumising shampoo and conditioner. Blow dry using a palm-full of mousse for texture, as it bulks hair up and also spray with a heat protecting styling product. Then, depending on the look you are going for, either iron it, tong it and spray each section with hairspray as you go.
For Thick Hair: Begin prepping hair anywhere from two to three weeks in advance. Start with a bi-weekly deep conditioning treatment to help flatten the cuticle. This will help create a smoother result. The night of, add a serum when hair is wet and distribute evenly from the roots to the ends. Then, flat iron your hair first so it's nice and sleek and shiny from the start and proceed to style as desired using plenty of hairspray as you go.
Hot Rollers:If you're using rollers, the trick is to make sure that they are cold before you remove them. Hair expands when it's hot and shrinks when it's cold, so you want your hair to cool (he recommends waiting 20-30 minutes, as rollers tend to retain a lot of heat) to ensure the curl lasts.