Reflexology What To Expect In a Treatment. Beauty and Health Glossary at BellaSugar UK
Beauty Glossary: Reflexology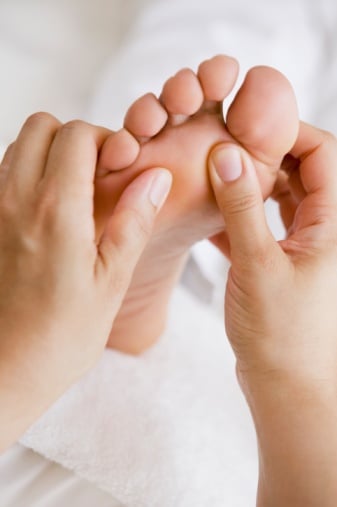 Reflexology is a holistic treatment, which takes the view that the feet – and hands– work as maps of the body's state of health and wellbeing.
Reflexology practitioners divide the feet into zones that run from the toes, to the brain, through different parts of the body. There are ten vertical zones, or energy lines – and as pressure is provided to the feet, these lines are stimulated so that the energy is able to flow.
Some Western doctors believe that reflexology is nothing more than a relaxing foot massage, but it's a widespread practice across Asia, and much of Chinese Medicine (such as acupuncture and acupressure) is based on these 'lines of energy', in the body.
For what to expect from a treatment, just read more
The overall aim of reflexology, is to create balance in the body, by calming and detoxifying. This, in turn, eases stress levels and creates a feeling of deep relaxation.
Expect to feel slightly space-out and very relaxed after a treatment. Also make sure to drink plenty of water, as you may develop a headache or lethargic feelings. These should soon pass, and you'll feel lighter, more refreshed and better aware of your body's physical and mental state.
Check out FitSugar's reflexology video, for a more visual idea of what to expect in a treatment.