Ren Damask Rose Biosaccharide Body Cream. Product Review: BellaSugar UK
Product Review: Ren Damask Rose Body Cream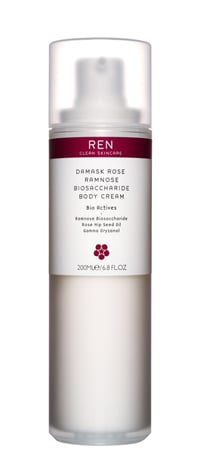 Well at least I have one thing in common with Uma Thurman. Like the long-limbed actress I share a love of skincare brand Ren and am a true devotee of their shower creams and body lotions in particular. As a complete body lotion addict anyway, it's no surprise then that I'm head-over-heels about Ren's Damask Rose Body Cream, (£24.50).
This a truly luxurious body lotion. It's ultra thick and absorbs easily leaving your skin glowing and soft. The thick yet not cloggy consistency makes for a nourishing effect that's not at all sticky or greasy. Essential fatty acids from rose hip seed oil and jojoba oil work to boost the skin's lipid content, restore moisture levels and increase the skin's ability to retain moisture. Expect petal-soft skin with a healthy glow.
The uplifting fragrance of damask rose petals is better than eating chocolate if you want to feel completely indulged and pampered. Rose is known to balance the emotions and create feelings of wellbeing, whilst ramnose sugar, which is also on the list of ingredients, stimulates beta endrophin release. No wonder I feel so happy after using this cream, it's like true love in a bottle!