Robert Kardashian Manicure, Robert Karsdashian Salon, Robert Kardashian Pediicure
Does Your Guy Enjoy a Little Pampering?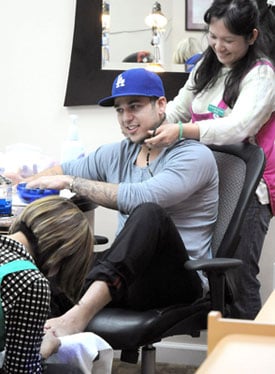 On Thursday in Los Angeles, Rob Kardashian, from E!'s reality show Keeping Up With The Kardashians, was spotted getting a manicure, pedicure and a neck and shoulder massage at a local salon. A lot of men feel that this kind of thing is just for the ladies, but I think it's great when guys groom their hands and toes.
Typically they just go for a buff job instead of getting any colour applied, but it keeps their cuticles and calluses smooth, and it also helps exfoliate their dry, scruffy feet.
I can get Mr. BellaUK to come along with me every once in a while for a spa afternoon, but it's not something he seeks out on his own. What about the special men in your lives? Do they enjoy getting pampered too?