Rosie Huntington Whiteley Golden Globes Red Carpet Beauty
Rosie Huntington-Whitely Rules The Red Carpet in Magnificent Makeup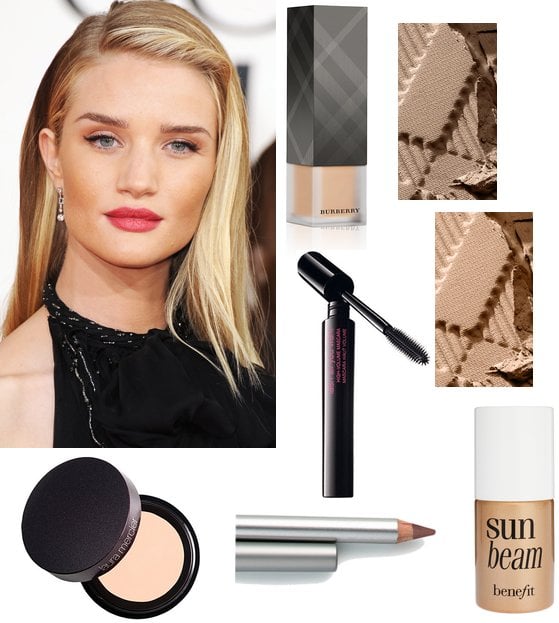 25 year old Rosie Huntington-Whiteley looked absolutely stunning last night on the red carpet at the 2013 Golden Globe Awards. Clad in a long black Yves Saint Laurent belt, gown and shoes, her hair was lightened to blonde perfection and her makeup was inspired by modern Hollywood glamour and created by celebriry artist Fiona Stiles for Mark. Shop all of the products you'll need to achieve this look on your own:
Face & Cheeks: Blend Burberry Velvet Foundation (no. 207) all over the skin and apply Laura Mercier Secret Concealer (no. 3) to any red or purple areas. Next, luminise the skin with a bit of Sun Beam from Benefit followed by a light dusting of Chanel Poudre Universelle Libre in (no. 30). Lastly, apply a bit of Burberry's Warm Glow Summer Glow (no.4) Bronzer on cheekbones and forehead for a healthy, fresh glow.
Eyes: The key was to use a soft wash of neutral color and a bit of definition in the socket. Elongate the eye with a brown pencil, and then soften the line with mark I-Mark Wet/Dry Eye Shadow in Tabac. Next, apply two coats of Mark Lash All You Want High-Volume Mascara in Black to the top lashes and one coat of Mark Lash All You Want High-Volume Mascara in Brown/Black to the bottom lashes. Blend Burberry Trench and Almond eye shadows to the sockets of the eyes and line them with Laura Mercier Kohl Eye Pencil in Brown Copper.
Lips: Stiles used Mark Lipclick Full Color Lipstick in Cha Cha on Rosie's lips and matted down the finish and softened the edges for a less defined look.