Royal Weddings 2009-05-14 07:30:00
Wedding Beauty 101: A Royal Makeover
If you're a more conservative bride (not necessarily someone having a raging hen party), who's throwing the formal wedding of the century, then you're likely looking for a clean and ultrapolished makeup look. Take a cue from some of the gorgeous women that have been scooped up by the world's most eligible bachelors. These pretty princesses understand the need to look refined at all times. Being in the public eye means always having your face on and keeping up with a prim and proper appearance.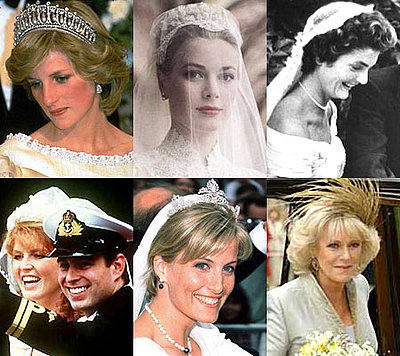 For step by step instructions on how you can give yourself your own royal makeup treatment at home for your wedding day, read more.
FACE: Begin with a clean, well moisturised face and apply a primer all over. Then, use a brush to apply a medium-coverage foundation, paying special attention around your nose and mouth. So that you can ensure your photos are perfect, also apply the foundation (with a lighter hand of course) to your neck and decollatage and blend evenly using a sponge. Set with a light dusting of translucent powder.
CHEEKS: Since your goal is to look timeless and elegant, you'll want to choose a neutral-coloured blusher in the tawny, medium pink and peach family. Use an angled, contour brush, start by gently blending a little bit of blusher on the apples of your cheeks and then pulling the brush outwards along your cheekbones towards the top of your ear. Add more blush if necessary. Then, use a large, clean fluffy brush to buff out any streaks. No bronzer is needed for this look.
EYES: You'll want to choose a natural colour palette to create a classic eye. Begin by sweeping a cream-coloured shadow all over your lid and then blend a matte, taupe shade into the crease. You can darken the crease with a touch of steel grey or dark brown, but remember to blend well. Next, line your upper and lower lashes with a black powder shadow. You can do this by wetting your liner brush, dipping it into the shadow and then tapping off the excess product. Press the brush into your lash line and then wiggle it slightly to create a thin, yet defined line. Repeat until both your uppper and lower lashes are lined. Finish with two coats of black waterproof mascara (yes, even royalty cries at weddings!)
LIPS: As a finishing touch, apply a warm, creamy shade of lipstick to your lips using a lipbrush. Since this is more of a traditional look, there's no need for gloss, however, I would avoid a matte texture because you want your lips to look soft and delicate, not chalky. When choosing colours, pick something two to three shades darker than your skin tone in a nuetral range, (meaning nothing too red, pink or orange).