SK—II Cleansing Oil
Product Review: SK—II Cleansing Oil
One of my favourite qualities in my long distance bestie is that she loves sharing all of her new beauty finds with me, and when I went to visit her over Christmas, I was able to test out some of these exciting products that I would not have otherwise tried. One of the goodies that impressed me most is a Cleansing Oil from SK—II (and bonus — it typically costs £41, but is now on sale at Harrods for £36.75)!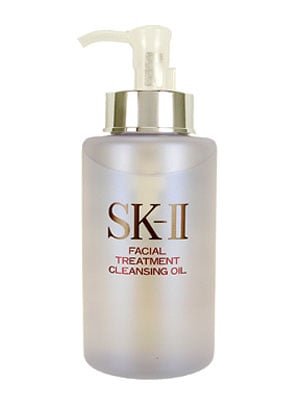 This easy to dispense, especially when you hands are wet, pump cleanses the skin gently and leaves your face and neck feeling dewy, but not super-residue-y if that makes any sense. However with both of those great qualities yet, the feature that stands out the most is that is takes off my eye makeup without fail. A little rub with my fingertips mixed with some warm water and voila — even all traces of even the most waterproof black liner are gone!
On top of all of this goodness is the smell. Cleansing Oil contains rose extract which adds a clean and feminine element to your cleansing ritual. Use 3-4 pumps on your face and neck, and then add water to emulsify the oil before you rinse it off. What's your favourite facial cleanser?