Sarah Jessica Parker Launches New Perfume Lovely Collection Fragrances.
Sarah Jessica Parker Has a Moment With New Fragrances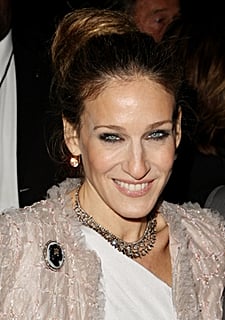 Sarah Jessica Parker is launching another collection of perfumes. Following in the footsteps of Coty Prestige counterpart — Gwen Stefani, who launched the five-fragrance Harajuku Lovers lineup in September — Sarah Jessica will be creating a bevy of scents. The Lovely Collection line will comprise of three scents — Dawn, Endless and Twilight.
"The concept of moments lent itself to multiple fragrances,"Sarah Jessica told WWD. "This was meant to be a personal collection of fragrances, I wanted to offer a little glimpse into my world, something that was genuine and relatable — very specific moments, treasures of time."
The actress first moved into the perfume business in September 2005 with Lovely, her first scent. Since then, her fragrance collection has expanded to include Covet Sarah Jessica Parker and Covet Bloom. Each of the new scents features a different colour combination with floral abstract designs along the back of the bottle.
For what to expect from Sarah Jessica's new perfumes, just read more.
As for the juice itself, there really is something for everyone. Dawn is a soft floral with top notes of citrus cocktail, violet leaves and angelica; plus a heart of orchid. It has a base of musk too. Meanwhile Endless is a fruitier floral with top notes of pineapple, apple, ivy leaves and plum; a heart of radiant peony, pink jasmine and magnolia, and sandalwood drydown. For evening, Twilight, is an amber musk. It includes notes of bergamot, galbanum, mandarin, peony and jasmine, as well as an amber, sandalwood, incense and musk base.
"Being able to create fragrances has been a dream come true," said Sarah Jessica. "I particularly love the process because smell is very subjective — perceptions are different. It's like splitting atoms to get it as perfect as possible, and I love every second of it."