Selfridges Beauty
Selfridges Is Celebrating One Heck of a Beautiful Birthday!
Donovan might have said that yellow is mellow, but there's nothing laid back about these exciting new beauty products that have been specially designed from some of beauty's leading brands such as Benefit, La Prairie, Lancôme, Bobbi Brown, Clinique, Illamasqua, Kiehl's and Crème de la Mer for Selfridges 100th birthday. For the entire month of May, you can shop the fun limited-editon items at this London landmark and help them celebrate in style!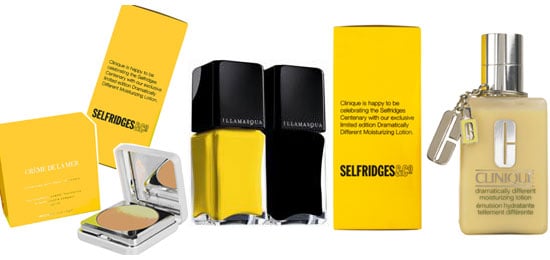 FabSugarUK already told us about the glamorous fashion set that attended the kick-off celebration, but below are the first round of beauty goodies that are available in-store.
For additional images and a description of each of the products, read more.
Kiehl's Soy Milk and Honey Crème de Corps Body Lotion: Since Crème de Corps Body Lotion has been one of the brand's best sellers at Selfridges for the past 20 years, they have decided to create a special edition infused with soy milk, honey, jojoba and olive fruit oil to commemorate the store's birthday!
La Prairie: This new and extravagant Art of Bath Set comes in box filled with a ceramic bowl, a mixing spoon, essential oils, eight oil blends, a bath foam, a bath oil and four candles for you to pamper yourself with this May.
Benefit: 500 Benetint's, Benefit's cult product for lips and cheeks will be available. They also come with a special birthday message from Benefit owners Jean and Jane.
Crème de la Mer Treatment Powder Foundation Compact spf15 : This newbie from La Mer is silky soft, it provides medium coverage and is available in ten different shades to suit most skin tones.
Clinique Dramatically Different Moisturising Lotion: Every bottle comes with a cute silver key chain accessory for the month of May.
Illamasqua Exclusive Nail Varnish Set: This luxe gift box contains two shades of nail polish in bright yellow and jet black to match the store's colours!
Bobbi Brown Beauty Manual, Lip Colour and Palette: If you're looking for variety, Bobbi Brown is offering up 100 signed copies of her latest book Beauty Manual along with 100 lipcolours on Sandwashed Pink and 100 six-pan customisable empty palettes.
Lancôme Juicy Tubes in Vital Mandarin: 100 limited-edition succulent and ultra-shiny lip glosses in a Summery orange shade will be available until they sell out.