Selfridges Launch Gentleman's Tonic Men Only Grooming Spa Salon
Selfridges Launch Men's Only Grooming Salon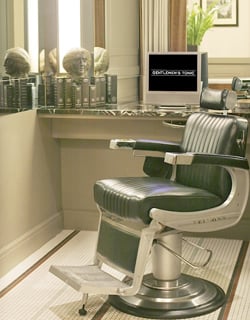 It appears that any stigma regarding men using beauty products has completely disappeared in these post-metrosexual times. After the manscara craze this summer and the recent news that men are as botox-obsessed as women, it's no surprise that this winter British men are in for a beauty treat, all of their own. Selfridges launches Gentlemen's Tonic today; a men only salon with a focus on spa-style treatments and grooming.
In a bid to tap into the £700 million male grooming market, Gentlemen's Tonic is situated in the vibrant London store. It aims to be a one-stop-shop for style, with four treatment rooms, four barber salons and a retail area. Founded by ex-City broker Olivier Bonnefoy, the salon is a unique establishment that incorporates a traditional barbershop with a variety of lifestyle and grooming services, for the modern man. Located on the 1st floor next to Ralph Lauren menswear, the salon will offer an extensive list of specialised services that set the precedent for a reassuringly male experience. Treatments will range from rejuvenating facials and tension releasing massages, to wet shaves and haircuts.
For what to expect and some treatments on offer, just read more.
Despite opening today, word has already spread and as a result Gentlemen's Tonic at Selfridges has been inundated with appointment requests and is now fully booked for the first four days of trading. David Walker Smith, Selfridges' Director for Beauty says; "Male grooming is a massive growth market and Selfridges is at the forefront of this trend. Now our male customers can buy a work shirt, a new pair of shoes and have a wet-shave and shoulder massage at the same time, all under one roof."
I'm tempted to book my boyfriend in for one of there great-sounding treatments, such as the amusingly-named 'Kills The Hangover Cure', which comprises of a Bloody Mary, aromatherapy facial and massage that costs £140 for 135 minutes. I also like the sound of 'Divorce Detox' (£46), a half hour rejuvenation facial that helps to accelerate cell renewal, relieve congestion and improve skin tone. The boys are definitely back in town now.