Shiseido Launch Makeup Line Lipstick and Lip Pencils For 2009 Beauty Trend
Shiseido to Launch New Makeup Line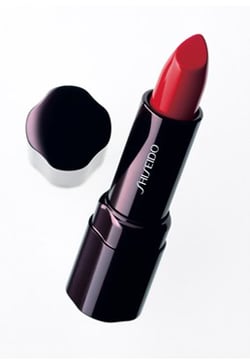 Cult Japanese skincare brand Shiseido has its sites set high as it aims to become a global beauty player with a new makeup line, early next year. The range is being developed with New York-based makeup artist Dick Paige and will be called, simply, Shiseido. Starting with a selection of moisturising lipsticks and lip pencils, the line will debut in Japan and the US in January 2009 before being rolled out worldwide in the first half of next year.
General manager of Shiseido's international marketing department, Hiroshi Maruyama, told WWD that the company plans to move on to eye shadow and foundation in time for autumn/winter 2009. All of the new Shiseido makeup products will be packaged in red boxes bearing Shiseido's signature floral logo. Maruyama added "Of course for makeup, color itself is the more important factor… so that's why we're collaborating with Dick." The brand is also working with Australian model Christina Carey, who will star in the line's advertising and promotional materials.
For a makeup artist verdict and what to expect from the products, just read more.
Makeup artist Paige has already tested the new lipstick and pencil at the September shows in New York for collections such as Michael Kors. "My barometer of success on color is if stuff gets stolen backstage, you know it's good." He is just about to embark on Shiseido's world press tour to promote the new makeup line, heading first to New York before going on to Paris, Milan and Düsseldorf. He's also preparing for the upcoming Shiseido and Marc Jacobs campaigns. He told WWD "I'm Madonna now. I get my pointy bra out and I go on tour."
As for the products themselves, Shiseido fans will be in for a treat. The Perfect Rouge lipstick comes in 20 shades, including a fantastic selection of pinks and neutrals, as well as the on-trend Dragon Red. The lipsticks will all feature a special moisturising ingredient, S Hydro-Wrap Vitalizing DE, a low wax content and a silicone-coated pigment for long-lasting color. Meanwhile the Soothing Lip Pencil comes in seven different hues to complement the lipsticks. It also features a special brush tip on one end, which Paige designed for professional application.