Shop The Top Exfoliators
Skin Care 101: Exfoliation
As POPSUGAR editors, we independently select and write about stuff we love and think you'll like too. If you buy a product we have recommended, we may receive affiliate commission, which in turn supports our work.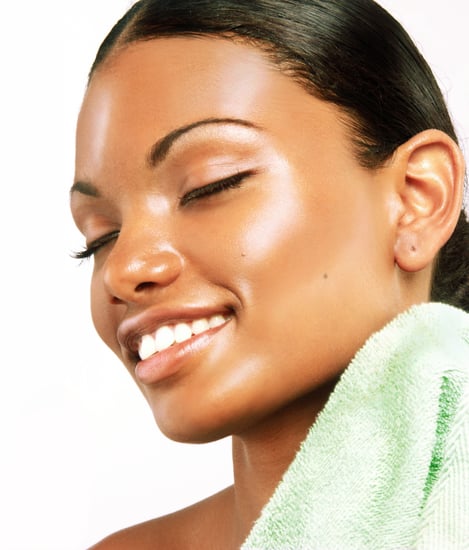 The skin care step that will give you immediate results? Exfoliation. Whether it's to bust breakouts, diminish dark spots and scars, or even smooth away lines, finding the right exfoliant for your skin will help ensure that your complexion stays healthy and glowing. Learn what type is right for you and shop our favourite picks, when you keep reading.
Why You Need It: As we get older, the cellular turnover rate of our skin slows down. This means we're not producing as many new and plump skin cells as when we were younger, which results in dead, dull skin on the surface. Sloughing action helps to shed these old layers, while also prepping your skin for better penetration of your skin care products, such as spot treatments, serums, and moisturisers. Plus, you instantly have softer, smoother, more radiant skin.
For Oily Skin: Excess sebum production mixed with dead skin cell buildup can lead to unwanted spots and breakouts. Salicylic acid is a mild exfoliant found in most acne products like cleansers, spot treatments, and even moisturisers. Another great treatment for acne-prone skin is glycolic pads, which you apply to freshly cleansed skin. You can use these daily or every other day all over your complexion, and they help to break up the debris, oil, and dead skin buildup that causes breakouts. You can also try Clarisonic's Mia Sonic Skin Cleansing System (£99) to help loosen clogged pores. Just be cautious of physical scrubs that might aggravate acne and cause irritation and redness.
For Combination Skin: There are many exfoliating choices out there, and this skin type would benefit from pretty much any of them. If your T-zone is oily, try using any of the products mentioned for oily skin types. There are also products on the market that use a blend of chemical and physical exfoliants that would improve your complexion. Just be sure not to over-exfoliate, which can lead to redness, irritation, and even dryness.
For Dry Skin: The layer of dead, dry skin cells on the surface of your face may actually be blocking your moisturiser from penetrating for optimal hydrating results. That's why dry skin types can greatly benefit from finding the right exfoliant to aid in bringing moisture back. So that you don't overdo it and aggravate your skin's condition, try a gentle powder exfoliant or saturated pads with enzymes and fruit acids once a week. Build up to two to three times a week if it seems beneficial to your skin, and be sure to follow up with a serum and/or moisturiser right after.
Tips and Tricks:
Physical exfoliants include beads, sugar or salt crystals, crushed particles, brushes, and towels that provide abrasion to the skin.
Chemical exfoliants include enzymes and acids like salicylic acid, glycolic acid, alpha hydroxy acids, and beta hydroxy acids, which all work to break up the debris and dead skin buildup on the skin's outer layer.
Be sure to read the instructions on the product you've selected, as some may be used daily, while others should only be used once a week.
Sensitive skin types should do a patch test on a small area before using a product all over your face.
Try using an exfoliating treatment in the shower on freshly cleansed skin. The steam will help the efficacy of the product.