Sienna Miller Makeup 2009-08-07 07:30:00
How To: Get Sienna Miller's Healthy Hollywood Glow
At last night's Los Angeles premiere of G.I. Joe: The Rise Of The Cobra, Sienna Miller positively glowed on the red carpet. Considering she recently said that she'd be happy to wear a bin bag on these last legs of her gruelling promotional tour, she sure does cleans up like a champ when the event calls for it. I love her classic and glamorous Hollywood look complete with retro waves, tanned, matte skin, lined and defined eyes and bold, red lips.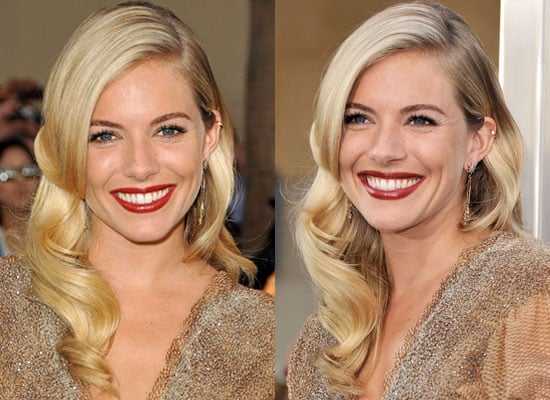 To find out how you can re-create this look at home with less than ten products, read more.
FACE: Begin with a clean, dry face. Next, apply a moisturiser and a foundation that matches your skin tone. Blend well and set the foundation with a translucent powder. Lastly, use a large fluffy brush to buff skin to a flawless finish.
EYES: Sienna's eyes are simple to achieve. Start by blending an ivory shadow from the base of your lashes all the way to your lid. Then use a light to medium brown shade in the crease for depth. Fill in brows, curl your lashes and apply two coats of black mascara. Once it's dry, line your eyes with a black, liquid liner starting from the inner corner all the way to the outer corner. Extend the line and make it just a tad thicker on the ends for a dramatic, cat-like effect.
CHEEKS: For a nice, golden glow, apply bronzer with or without shimmer to your nose, forehead, temples, jawline and blend well. Then, with a gentle hand, use a delicate, pale pink blusher on the apples of your cheeks and down the center of your nose for a touch of warmth.
LIPS: Last but not least are your lips. Since this is the feature you'll want to accentuate most, make sure they're exfoliated and moisturised. Using a lip brush, apply a deep, brick (browny-orangey) red lipstick all over. For an even more come hither effect, dab a little bit of clear high-shine gloss in the center of your lower lip.