Sight Loss Eye Disease Drug That Gives You Longer Thicker Eyelashes
Sight Loss Drug Makes For Longer Lashes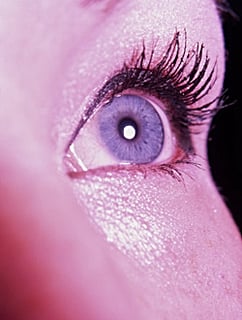 A drug that is regularly used to combat a debilitating eye disease has now been licensed for cosmetic use after it was discovered to have an intriguing side effect; longer eyelashes. Lumigan which is used to treat Glaucoma could be the new wonder beauty product after tests showed it doubled eyelash length in users. Clogged mascara and heavy falsies could be a thing of the past as experts are claiming that the formula creates actual hair growth resulting in Bambi-like lashes.
Created by Allergan, the drug company that is also behind botox, Lumigan or Latisse could hit UK shops next year, as a lash-lengthening treatment that could be worth millions for the firm. The formula will launch first in the US according to the Daily Mail. Apparently the drug not only makes lashes longer, but also works on the follicles making them thicker and blacker too. Allergan is now fiercely protecting it's product to allow them to compete for a share of the £2billion spent on mascara each year worldwide. According to Marie Claire it has already taken legal action against seven cosmetic companies that attempted to create products that included Latisse's active ingredient, prostaglandins.
For how it works, just read more.
Valerie Randall, professor of biomedical sciences at Bradford University, told the Independent on Sunday, "What the company is doing now is amplifying the side effects of a medical treatment. When we understand better how it works, it could be used in the treatment of alopecia and other hair growth problems."
However, last night, Britain's Medicines and Healthcare Products Regulatory Agency urged people not to use Lumigan to lengthen lashes until its use as a cosmetic is deemed safe. This could be just another example of the cross over between beauty and medicine that's been booming in the last few years. Would you be tempted to boost your eyelashes this way?