Sisley Gentle Eye and Lip Makeup Remover. Beauty Product Review From BellaSugarUK.
Product Review: Sisley Gentle Eye and Lip Makeup Remover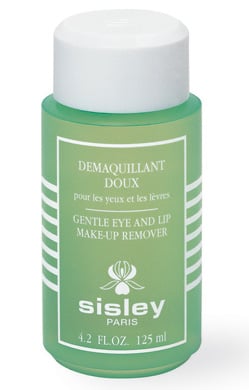 Now the jury's out about whether most of you prefer to use a separate eye makeup remover or not. I always used to remove my makeup with a creamy cleanser, regardless of whether I was wearing just a touch of mascara or going for full-on smoky eyes. Recently though, I've been noticing that the older I get and more time I spend in front of a computer, the more sensitive my eyes are. When they used to be just fine with a quick swipe of pretty much anything, now unless I use a specific eye makeup remover I end up looking like I've just been crying.
I've recently discovered the cure to my bleary-eyed prayers. Cue Sisley's Gentle Eye and Lip Makeup Remover (£33.50). Unlike most makeup removers it contains no alcohol and doesn't dry out the eye area. For why this product has made the grade, just read more.
The bottle has an easy-to-use cap that means you don't end up spilling the product. Just a tiny bit on a cotton wool pad easily and effectively banished all traces of my usual daytime mascara and brown kohl. I put it though it's paces by wearing theatrical glitter on my eyelids with layers of black and gold mascara, plus a thick slick of this season's tomato-red lipstick, but the Sisley makeup remover still worked it's magic. Usually even washing my face makes my eyes water and look unappealingly red but the super gentle formula meant that my peepers stayed looking fresh.
Extracts of wild daisy, cornflower and gardenia work to simply dissolve your makeup with no need for vigorous rubbing. It's ideal if you have sensitive eyes or wear contact lenses. All that scrubbing around the delicate eye area can also accelerate the signs of ageing so if you're worried about crows feet appearing, then it may be time to start treating your makeup removal technique with the same respect you have for applying moisturiser.