Spa Review. Beauty Editor's Secret Little Black Book of Spa Treatments. Steenberg Spa and Hotel
Little Black Book: Steenberg Spa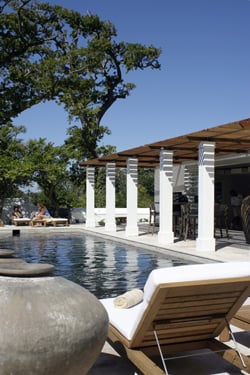 Some of the best-kept secrets amongst beauty journalists are the spas and hotels in Cape Town, South Africa. For the price of a blow dry in London (£30-£40) you can get top notch head-to-toe treatments that will leave you glowing. My favourite is the gorgeous spa at the Steenberg; the oldest farm in the Cape, Constantia Valley. This luxe property has recently launched a fantastic treatment to revitalise winter skin and get you looking toned and beautiful.
The Ginkgo Signature Therapeutic Massage costs the bargain price of £33 for 90 minutes of pampering. The treatment encompasses five different techniques using traditional touch therapies to leave you feeling completely rested. For what to expect simply read more.
To slough off any flaky winter skin and leave you looking glowing, you're first treated to an expert full body exfoliation. This is essential to get rid of dead skin cells on the body that can leave your skin looking dull. Expect silky smooth skin that's ready to imbue more moisture.
Next you can look forward to a thirty minute back and neck massage. Any muscular tension will simply melt away, while your body is flushed of toxins. The treatment is ideal for promoting feelings of deep relaxation. Indulgent Lillian Terry oils are used which have been specially formulated to ease away neck tension that can lead to headaches or migraines. They are great for helping with general back tension and muscular knotting too.
Finally there's a lovely hair and scalp treatment, using wine-based Theravine products. Working on the premise that in order to have beautiful hair, you need a healthy scalp, the treatment balances the hair follicles and nourishes your locks for super shiny hair. All in all, it's like a glamorous MOT for your whole body.