Spa Review Little Black Book: Ritz Carlton Give Back Getaways
Little Black Book: Ritz Carlton's Give Back Getaways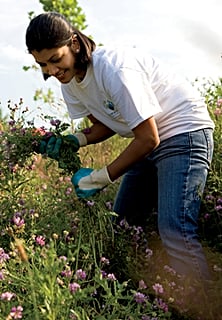 For far-flung spa trips look no further than the Ritz-Carlton hotels. This five star chain boasts spas to die for, with a whole host of signature beauty treatments to the highest standard. I've visited quite a few of these around the world and if you're looking for a luxury treat with that home-from-home attention to detail then I can't recommend them highly enough.
This year the chain have launched a fantastic initiative called Give Back Getaways which combines all the pampering of a spa treat with the chance to actually help the local community and environment. The opportunities are varied and are ideal to offset that 'me me me' guilt that I know I sometimes feel when basking in a spa break. From building a library for the young children of migrant workers at the Dandelion School in Beijing, to helping with renovations and landscaping at the Children Hospice SONNENHOF in Berlin, the scheme allows you to make the move to being beautiful on the inside, as well as outside.
For what initiatives you can get involved in and the lowdown on some of the great treatments, plus all the photos of the spas, just read more.
At the Ritz-Carlton spa in Cancun, Mexico you can combine water-based treatments with taking care of the environment. Relax with a Signature Kayanta Herbal Body Scrub ($170 for 50 minutes). It's a gloriously revitalising treatment that refines the surface of the skin by exfoliating dead cells with a herbal scrub made from organic medicinal plants and mud . It will leave your skin glowing and super smooth. Then get involved by helping to protect endangered sea turtles in the nearby ocean. You will join a biologist from the Cancun Department of Ecology for a rewarding hands-on experience protecting mother turtles during nesting and helping them return safely to the sea. Guests will head out at night to search for nesting turtles, gather sea turtle eggs and bring them to a safer location at turtle camps where they can be buried without interfering with their natural cycle.
Meanwhile at the hotel in the Grand Canyon you can be trained to spot and map the location of endangered Blue Iguanas, before treating yourself to a blissful facial. Simon F. Cooper, president and chief operating officer explains:

"We have come to recognise the interest many of our guests have in becoming more involved in the region where they are spending their vacation. Many of them are active volunteers in worthwhile activities at home, and want to continue this spirit of giving when they visit other parts of the world. We believe Give Back Getaways is a unique way for our hotels to partner with guests to provide an experience both memorable and personally enriching."
Personally I think the idea of combining gorgeous beauty treatments in stunning locations with the simple act of helping to give back to the local area is a winner. How about you, is this something you think you might like to get involved with?
.