Spa Treatment Anti-Ageing Facial. Pleasure Promise Treatment Darphin at Harrods Beauty. Little Black Book of Beauty Secrets
Little Black Book: Pleasure is Pleasure with Darphin Treatment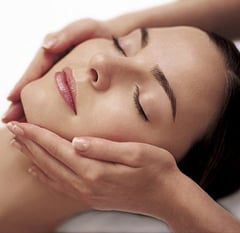 The next installment of my Little Black Book feature is about the incredibly luxe Pleasure Promise Facial (£60) from Darphin (available at Harrods). I'm a devotee of Darphin products since they use high quality ingredients, they smell gorgeous and give me amazing results.
This facial works on a sensory-basis. It combines aromatherapy products with expert massage techniques, to improve the tone and texture of your skin. For the full review of the treatment, plus what to expect, just read more.
The facial began with a relaxing back treatment combining shiatsu and Swedish massage. After feeling very chilled out, I was then treated to a tailor-made facial using Pierre Darphin's original techniques. These work to relax facial muscles and melt away any tension you may hold in the face for a better-than-botox effect. After the massage, an iris and rose mask was applied while I was given a soothing hand and arm massage for an extra blissed-out feeling.
The facial is costly but with the extra back and hand massage work it feels like an all-over body treat. Plus the £60 is redeemable against products purchased and the treatment time is an hour and a half, so you get a lot of pampering for your pounds. Make sure to book in advance on the treatment booking line 0207 730 1234 ext 4326.
All in all I was very impressed with this facial. It's a results-orientated blissful treatment that gives you glowing skin. I think this may be even better than meditation.