Spa Treatment Wine Based Therapies and Facials At Penha Longa Spa Voted Conde Nast Traveler Number One
Little Black Book: Penha Longa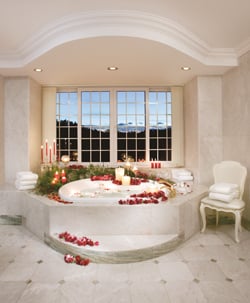 If you're planning a special spa break or are looking for something that might work for a honeymoon or pampering hen weekend, the luxurious Penha Longa Hotel and Spa in Portugal could be just the ticket. It's recently been voted number one in the 'Top Europe Resort' category in Condé Nast Traveler Reader's Choice Awards in the U.S. The spa is seriously impressive and it's based a half hour outside of Lisbon, so it's easy to get to for a weekend escape.
The hotel and spa are set in a 545 acre national park to make getting in touch with your inner zen much easier. The area was once described as "a glorious Eden" by Lord Byron because of it's luscious landscapes and stunning royal palaces. The whole area is now a UNESCO World Heritage Site, while the resort itself comprises of a nineteenth century palace that was originally a monastry in the fourteenth century.
For a review of the spa and what to expect, plus some pictures of the resort just read more.
The hotel is managed by Ritz Carlton and there's an impressive array of treats for spa junkies. All the rooms have oversize marble bathrooms filled with Bulgari products. The Six Senses spa is a new addition and is surprisingly big for a hotel spa, as well as including an indoor and outdoor swimming pool for pre-pampering fitness. It includes nine treatment rooms including a suite reserved for those who prefer more privacy. Plus there are two lovely relaxing areas where you can bliss out post-treatment with herbal teas.
The spa is based in the gardens, just a short walk from the hotel, and has an ambient air with Japanese-style water features, such as a three metre waterfall. There's also a jacuzzi and platform over the pool for yoga and tai chi. The treatments themselves are pleasingly varied; a fantastic shiatsu massage is offered in a tree surrounded gazebo, whilst the Peace Facial, which lasts 70 minutes, is a superb complexion booster. An expert facial massage plus hydrating apricot mask is ideal for toning and freshening the skin.
For a very authentic Portuguese experience try one of their signature wine-based therapies. The Relaxer Treatment begins with a welcome foot ritual and pressure-point experience. Your body is then cocooned with wine yeast and crushed grape extracts that refine the skin and assist with the elimination of toxins. Essential oils of blueberries and wild cherries are infused to increase body metabolism and encourage detoxification. Then enjoy a complimentary glass of Portuguese organic red wine to complete the journey! Sounds like my kind of spa.