Special Snow-Inspired Beauty Products
Today is cold, wet and snowy here in London, and even though my skin is cracking from cranking the heat up so high, I can't help but get excited by the pretty and wispy flurry of snowflakes falling aimlessly in the sky. Call me crazy, but there's something so lovely about snow — especially when you're looking at it from the inside of a warm room!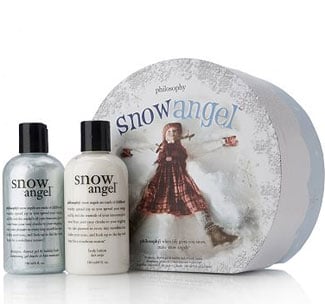 To honour the white-wash day that we're having (quite early this year too might I add), I've decided to gather some winter-themed beauty products to celebrate.
I adore this Snow Angel Bath & Body Collection from Philosophy which happens to be on sale for £15.45. The packaging is so sweet for Winter and the idea of a warm bath in these freezing temperatures sounds like heaven.
Shop more cute snow-inspired beauty products below!