St. Tropez Expert Reveals Top Fake Tan Tips!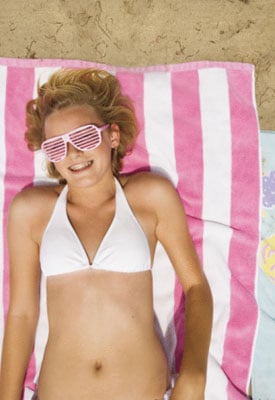 Fake tan has come in to its own in recent years. Brands have really upped the ante to give excellent natural-looking results, without the usual associations of tide lines and orange hues.
It can be difficult to apply if you're not on your game, though. Which is why, before I tried giving myself a fake summer glow, I caught up with St. Tropez's tanning expert and consultant Nichola Joss to give me some tips!!
St. Tropez is one of the leading fake tanning brands on the market with fans from Kate Moss to Giles Deacon and Elle MacPherson. The company has been blossoming in the last year adding fabulous gradual tanners, instant tanners and illuminators to its offer. To find out Nichola's tips, just read more.
EXFOLIATE: "It's always important to exfoliate and prepare the skin beforehand; this should be done the day before or the morning of the treatment. Skin needs to feel soft and smooth in texture, use body polish to get skin smooth and silky and soft to the touch. Skin should then be moisturised and massaged."
DRY SKIN: "Before application of product make sure skin is clean and dry. Use gloves and a mitt for application and start at the feet and work upwards and outwards."
MORE IS MORE: "Applying more product rather than less will ensure better coverage and less chance of streaking as the skin will more likely be covered more effectively, the excess colour and cosmetic colour guide will wash off, leaving perfectly covered tanned skin."
FINGERS AND TOES: "Make sure all nail beds and cuticles are covered with Vaseline or cream and remember to go over palms, soles of feet in-between toes, ears and nose with a wipe."
HANDY HINT: "A dusting of talcum powder into creases of knees, elbows, bums and neck area will ensure that the tanning product will not line or rub away and sweating can affect these areas."