Strip Wax Bar
Little Black Book: Strip Waxing Bar
If you're anything like me, you get easily freaked out by the thought of a bikini wax. They're painful, embarrassing and they take forever. So whilst they are just one of the things us ladies endure for the sake of beauty, I never look forward to appointment time...that is, until now. Yesterday's experience completely changed the face of bikini waxing for me forever.
I tried out a sexy new hot spot in London called Strip Waxing Bar where the aesthetician peels the wax off of you directly instead of using linen strips to remove the wax and hair. It's much less painful (I swear) and did I mention that it smells like chocolate! I've never even seen this done before, but the results are quite effective. Afterwards there's still a fair amount of redness, but today, the swelling is gone and my skin is silky smooth. Here's what went down: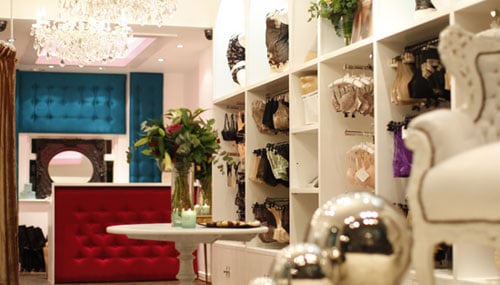 First, skin is prepped with oil which acts as a barrier between the wax and the skin. Then, the wax is applied in a goopy, thick layer. It takes about 30 seconds to dry, all the while warming your body and satisfying your senses with the sugary, chocolate-nutty scent. Once dry to the touch, the wax, gets peeled off in one fell swoop leaving your skin glistening and soft.
The magic is in the organic Australian Lycon wax. What it does is create kind-of a shrink-wrap around the hair, not the skin, making the experience much more comfortable. It also grabs the hair at the root so that re-growth is much finer. The wax is available in other flavours too like berry, lavender and active gold (smells just like chamomile) if chocolate isn't your thing.
For photos, store info, prices, celebrity clients and the downside of a Strip wax, read more.
There are currently two Strip locations in London; Chelsea and Notting Hill and prices for a bikini wax range from £22 - £50. The first floors sell classy and fashion-forward pre and post wax-related products and lingerie whilst the upper floors are treatment rooms where you can relax on a comfortable, professional table and watching television (this is fabulous distraction). The only drawback from the entire experience was that it took about 40 minutes, which is slightly longer because of the drying time.
However, take it from me (and other celeb clientelle like Victoria Beckham, Sienna Miller and Claudia Schiffer) that it was worth the wait. Do you think you'd be interested in getting a Strip wax the next time you're in London?