Style Your Hair Like Emma Watson
Nail Emma Watson's Modern Faux-Bob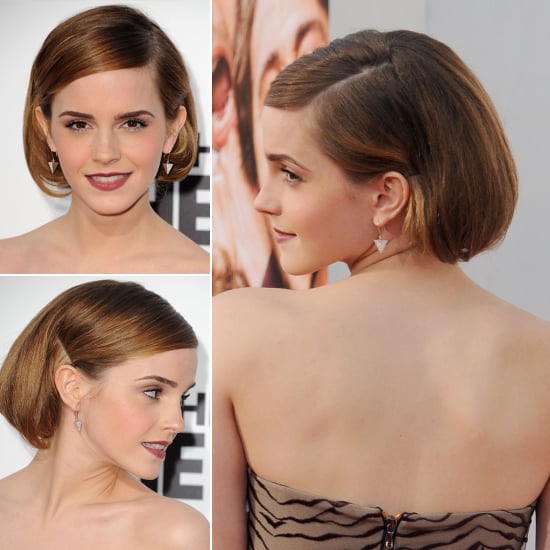 We had to do a double-take when Emma Watson stepped out for the This is The End premiere last night. The actress's faux-bob was so believable, we thought that she'd actually cut off her hair. But the updo was simply an illusion . . . and a beautiful one at that. Instead of the typical faux-bob we tend to see that's full of messy tendrils, Emma's style was structured and sleek. And it's also quite easy to pull off yourself:
Start by prepping your damp hair with a frizz-fighting serum, like Bed Head Control Freak (£14).
Part your hair deeply to one side and then blow it dry, using a large round brush and a concentrator nozzle on your dryer. While blow drying, focus heat from the roots down to blow straight, but keep the end of your hair taught around your brush to create a large curl. Don't brush this curl out — it'll be easier to fold under if you leave it intact.
Once your hair is dry, run a flat iron from your roots to about ear-level for added smoothness.
Using a bristle brush, smooth the front two sections of your hair down and back and secure with a bobby pin at ear-level. Spray a healthy amount of hairspray to keep things in place.
Take each curl one-by-one at the bottom of your hair and roll it under itself until your faux-bob is at its desired length. Pin each curl against your head by sliding a bobby pin through the center of the curl against your head.
Once all curls are secure, gently run your bristle brush over them to fill in any gaps to create one cohesive look. Finish with a generous mist of hairspray, like ghd Final Fix Hairspray (£3.95).