Sunscreen Labels Decoded: What Does Broad Spectrum Mean, Anyway?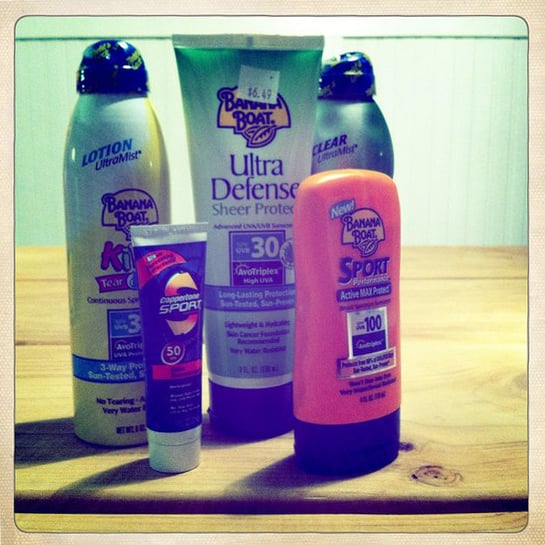 Reading sunscreen labels can be likened to scanning a scientific journal, but it's easy to get the protection you need if you know what terms to look out for. The FDA has changed its rules for sunscreen manufacturers, so some of the terms you see are new (and improved). We break it all down to layman's terms after the jump.
Broad Spectrum: Broad spectrum means you'll be protected from UVA and UVB rays. UVAs are the culprits of aging and skin cancer, while UVBs are the ones that lead to sunburn. Sunblock is not sunscreen, though, so make sure you buy a product with broad-spectrum protection.
Water Resistant: Waterproof and sweat-proof are now outdated terms, so you want to find a water-resistant formula if you're planning to get in the water or exercise. According to the new FDA regulations, the bottle should also state how often you should reapply (40 to 80 minutes).
SPF: What exactly does the SPF number mean? SPF stands for sun protection factor. The higher the SPF, the more sunburn protection you have. SPF 15 is the minimum number you should be using because anything lower than that is not proven to protect your skin. SPF 30 protects against around 97 percent of UV rays, and it only increases the closer you get to SPF 50. Anything over 50 isn't really any more effective.
PA+++: Although broad-spectrum sunscreens protect against both UVA and UVB rays, you might also see the PA rating, which marks the effectiveness in blocking UVA rays specifically. The rankings range from PA+ to PA+++, the latter of which offers higher protection.
Noncomedogenic: If you see this certification on your sunscreen, it means that it's formulated to prevent the clogging of pores. Anything that is noncomedogenic is a great option for oily or acne-prone skin types. You may also see oil-free on the label.
Active Ingredients: Sunscreen can include many different active ingredients. Some common physical protectors are zinc oxide and titanium dioxide, which deflect UV rays almost like a protective shield. Chemical sunscreens include avobenzone, octinoxate, oxybenzone, and helioplex. These ingredients absorb the sun's rays and should be applied about 30 minutes before heading outside for maximum protection.