Super Hair Stylist Guido Palau Talks Autumn Winter and Spring Summer 2008 Hair trends Matte Texture Candyfloss Hair
Hair Master Guido Says Matte is Back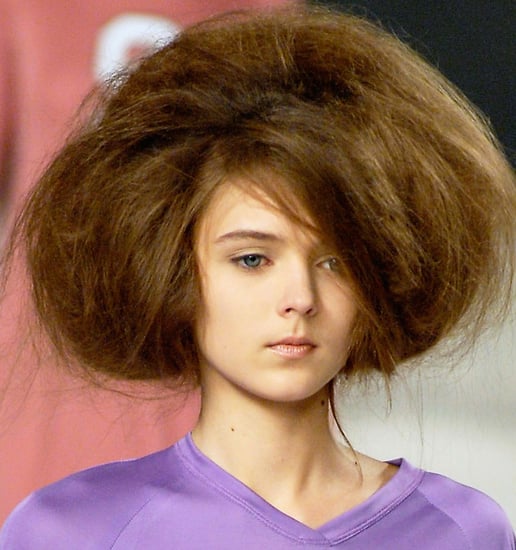 Now, I don't know about you, but I've been obsessing about matte hair for a while now. Since seeing those first catwalk pics of Candyfloss hair, not to mention the polished dreadlocks trend – I've been trying to wean myself off the super-shiny look.
The man behind this trend is hairdresser Guido Palau. He kickstarted the look for bag-lady, dragged-through-a-hedge-backwards hair. Think the cloud-cuckoo, crazy birds-nest hair dos at Moschino, Peter Jensen and Marc Jacobs (pictured).
"We've seen all that red-carpet tonged hair," He tells the Telegraph, "so I went for a scruffy, big teasy thing that felt ladylike but a bit throwaway. I think people respond to feminine ease and a sense of humour."
Guido works with photographers such as David Sims, Mert & Marcus and Steven Meisel, and his editorial and advertising campaigns include Prada, Alberta Ferretti, Louis Vuitton, Lanvin, and Balenciaga. Yet he still has a down-to-earth attitude to hair: Just read more
"I don't expect people to wear their hair exactly like that (the catwalk shows or shoots), just take note of, say, the dry texture, or accept that a little bit of back-combing is fine." He advises, in the Telegraph "At first when people saw it they were like (he pulls a scared face), but the more you do something, the more familiar it becomes. Not long after designers were saying, 'Give me that matte texture - it works so well with shiny fabrics'."
I couldn't agree more. Now that super straight and shiny hair is much easier to re-create – with decent straightening irons and shine serums – it's natural that we start craving something a little bit different. Even the poster girl for glossy hair, Jennifer Aniston, has been spotted working the textured look.
I think Guido's attitude to perfection in beauty is interesting too, he says
"People always want to know how to have perfect hair, but actually I'm always intrigued by eccentricity and imperfection. I find beauty in not such beautiful things. Sometimes what attracts me most is an awkwardness to hair."
The bad hair day never looked so stylish.