Super Recipes Women's Deodorant Pen Review
This $5 CVS Deodorant Pen Keeps Me From Being a Sweaty Mess
As POPSUGAR editors, we independently select and write about stuff we love and think you'll like too. POPSUGAR has affiliate and advertising partnerships so we get revenue from sharing this content and from your purchase.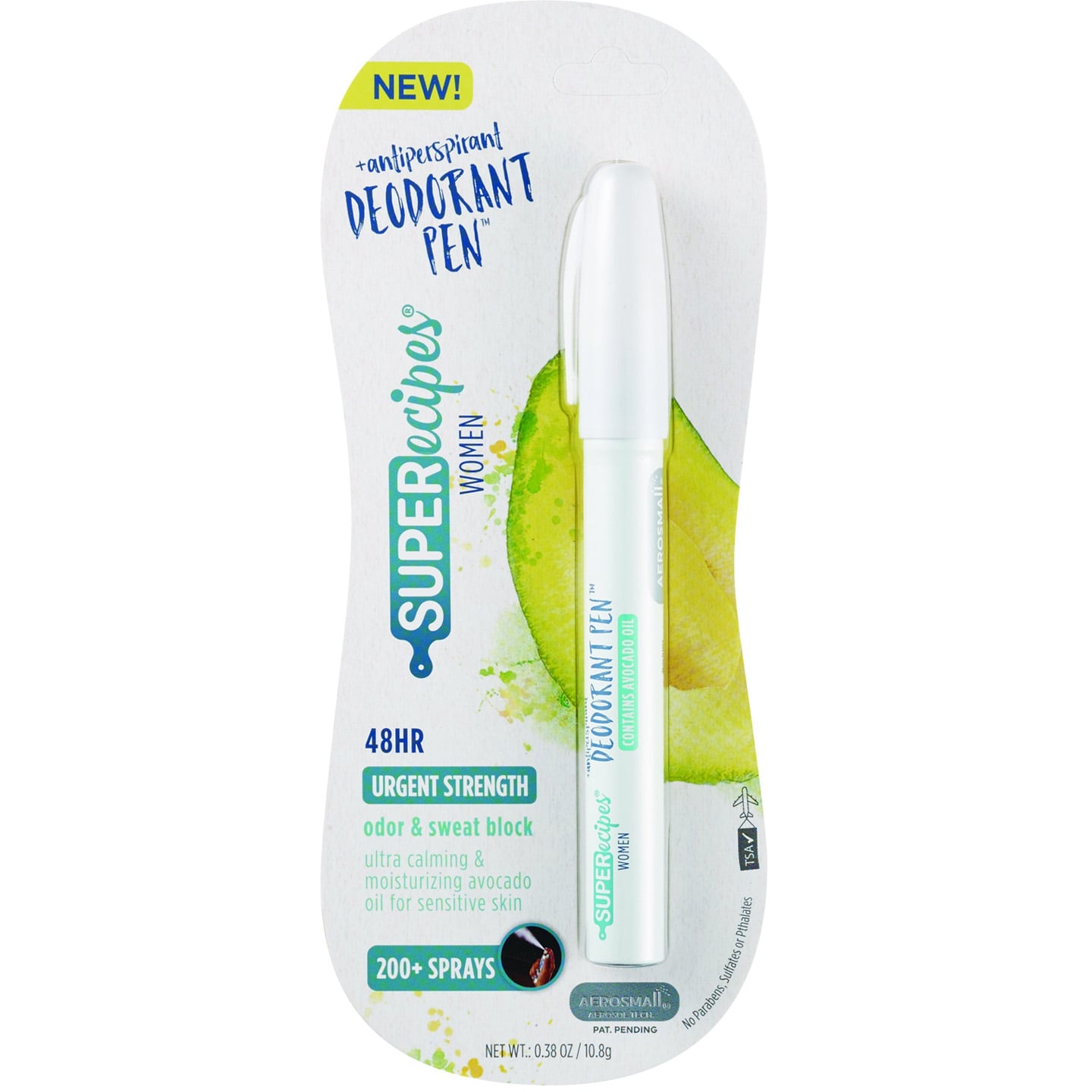 Allow me to set the scene. It's 2005. I'm in junior high. Puberty just hit me like a derailing train. Girls are covering their budding B.O. by delicately spritzing on Victoria's Secret Very Sexy. Meanwhile, on the other side of weirdo-town, I'm sticking maxi pads to the armpits of my t-shirts in hopes of stopping four-inch-wide sweat stains from developing under my pits.
Ten years later, I've thankfully developed a better system, but I'm still pretty choosy when it comes to my deodorant. Although one of my favorite parts of my job is testing new beauty products, I rarely volunteer to be the guinea pig when it comes to new antiperspirants. When I saw the puny Super Recipes Women's Deodorant Antiperspirant Pen ($5), I assumed it wouldn't work on me. Still, I was charmed by the idea of a portable deodorant disguised as a writing utensil, so I slipped it into my purse.
Lo and behold, a few days later I ran out of my go-to deo. I nervously spritzed the Super Recipes pen over my pits, and packed an extra shirt just in case I sweat through it. Luckily, I never had to change. The formula provided an instant, cooling effect that felt super refreshing. Although I was nervous that the spray might not set quickly and leave white streaks on my clothing, it never did.
The scent is sweet, but restrained and unisex, so even if you're sensitive I think you can roll with this coconut-oil-infused formula. What's more, this stuff lasts for hours — I wouldn't say the full 48 hours that's advertised on its packaging, but I can go a full work day without any touch-ups. Usually, I'll spray it on in the morning, and throw it in my gym bag to reapply after I work out in the evenings. And even though the pen is tiny enough to fit in my cramped going-out clutch, it lasts for up to 200 spritzes.
So, sweaty people of the world, don't be afraid to bust out those tight, long-sleeved shirts! This pint-sized pen will keep your pits covered, while adding more precious space to your beauty bag.